Police: Student killed by officers had pellet gun
BROWNSVILLE, Texas (AP) – An armed eighth-grader gunned down by police officers in the hallway of his Texas middle school Wednesday was brandishing a pellet gun that looked like a firearm, and he refused repeated orders to lower the weapon before the officers opened fire, police said.

The carbon-dioxide powered pellet gun 15-year-old Jaime Gonzalez was holding looked like a handgun, and the initial report to police that sent officers rushing to Cummings Middle School Wednesday morning was for a student seen holding a gun, Orlando Rodriguez, Brownsville's interim police chief, said at a news conference.

Robert Valle, a 13-year-old who was among the school's 750 students locked down in their classrooms during the confrontation, said he heard police run down the hallway and yell "put the gun down," before several shots were fired.

"He had plenty of opportunities to lower the weapon … and he didn't want to," Rodriguez said. Two officers fired three shots, striking Gonzalez at least twice, he said. The autopsy results are pending.

Full Story Here:
Police: Student killed by officers had pellet gun
OK, use your imagination on this one; YOU are a police officer, the dispatcher put the call out as 'a person with a gun', it's a middle school and there are God only knows how many kids in danger. You see the individual with the gun and he has it pointed, more or less at YOU! You order this individual to drop the gun and put their hands in the air but they ignore you and move the gun to a position that indicates to YOU that they are about to fire that gun at YOU!
Look QUICKLY, I mean look very QUICKLY! Is that a REAL gun? Are you in a deadly situation that dictates immediate deadly force be used? You have less than a second to decide whether YOU go home to your family that night or do you take a shot, or several shots from some dipstick with a gun!
Shots fired, officer involved shooting, we need backup dispatch, NOW!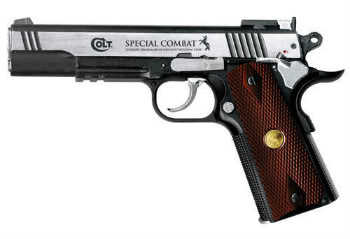 Well, in this case, it's a Co2 gun, a replica, a pellet gun that looks so much like the real thing that even highly experienced officers can't tell the difference, and a kid just died because he was STUPID! And now these cops have to live the rest of their lives knowing that they killed a 13 year old kid.
Some may call this a COLD statement to make, but those people never carried a gun for a living, I feel nothing for this 13 year old kid, he made his decision, he had options, he chose to ignore LAWFUL orders to drop the gun and put his hands up, he threatened the lives of police officers and he paid the price for his actions.
My most sincere sympathies go to the officers that were FORCED to pull the trigger and end that young life. They were placed in a position that left them with no choice but to act in the exact manner in which they were trained.
These officers did their job, and did it correctly, I wish them well and I hope that there are no lingering issues for them, a conscience can be a terrible thing to have.
P.S. That Colt 1911 in the picture is an *air gun*, a pellet gun.
If you didn't know you'd never spot the difference in a *real life* situation and officers have died because they hesitated to act quickly enough, thankfully, today that didn't happen and the Thin Blue Line didn't get any thinner.
In the immortal words of Sgt. Phil Esterhaus of Hill Street Blues fame, "Be careful out there!"
Related Story:
Boy Shot 8 Times By Police After Possessing BB Gun