Dorner manhunt: Lawyer calls shootings of paper carriers 'unacceptable'
An attorney representing two women who were delivering newspapers when they were shot by police during a massive manhunt for an ex-LAPD officer called the incident "unacceptable," saying his clients looked nothing like the suspect.

Emma Hernandez, 71, was delivering the Los Angeles Times with her daughter, Margie Carranza, 47, in the 19500 block of Redbeam Avenue in Torrance on Thursday morning when Los Angeles police detectives apparently mistook their pickup for that of Christopher Dorner, the 33-year-old fugitive suspected of killing three people and injuring two others.

Hernandez, who attorney Glen T. Jonas said was shot twice in the back, was in stable condition late Thursday. Carranza received stitches on her finger.

"The problem with the situation is it looked like the police had the goal of administering street justice and in so doing, didn't take the time to notice that these two older, small Latina women don't look like a large black man," Jonas said. SOURCE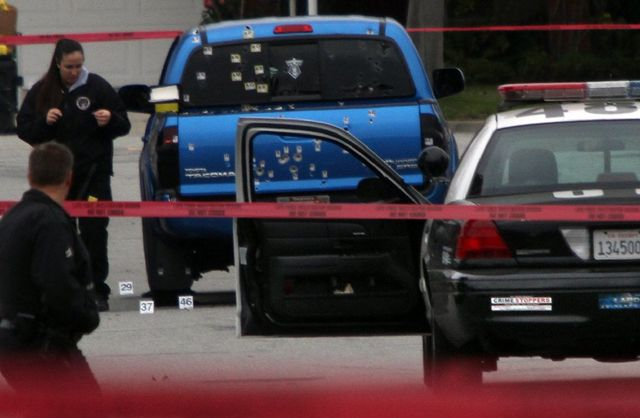 A while back I had a serious battle with a Central California blogger over his ideas about Police and Law Enforcement, he was VERY set against ALL Law Enforcement, but if this story is any indication, if California Law Officers are acting in this manner, if actions such as these were what he used to form his opinions, maybe he wasn't as far out of line as I thought him to be.
It's not too often that I agree with a lawyer that is about to sue the crap out of a Police Department but Christopher Dorner is a 6 foot tall, LARGE BLACK MAN! He weighs in at 270 pounds! I don't care HOW you cut it, that is a BIG guy by ANY standard.
Television images from the scene of the shooting showed newspapers scattered alongside the blue pickup and in the bed of the bullet-ridden vehicle, which sat on the street for hours after the shooting. Jonas said the vehicle was also "the wrong color and the wrong model," compared to Dorner's.
I wasn't there, I didn't see the shooting take place, I don't know what actions the 2 small Latina women may have done to provoke such a reaction from the Police, but this just looks BAD to the public and may well be the reaction you get from Officers that aren't well disciplined or well trained.
It was the wrong type of truck and the wrong color, driven by 2 Latina women. THAT is called a CLUE folks.
Apparently the police in Torrance didn't get the message either.
About 25 minutes after the shooting, Torrance police opened fire after spotting another truck similar to Dorner's at Flagler Lane and Beryl Street. No one was reported hurt.
I haven't seen any pictures of the Torrance truck but I have to say, it IS a miracle that the women in the truck pictured weren't killed, and that poses another question in my mind, and is one I have addressed before concerning *spray and pray* from Officers in New York City.
I see at least 30 bullet holes in the truck these women were in and evidence tags indicate many more that are not visible in the photo; they lived through it.
Many Police Officers open fire these days and they empty the magazine, that is called *spray and pray* and is a carry-over from the fully automatic weapons used by the military.
Once upon a time marksmanship was a thing an Officer or a Soldier took great pride in, one shot, one kill, that sort of thing. Now, the attitude among many is, "put rounds down range, we'll hit *something* along the way" and that is NOT acceptable.
I totally understand WHY Officers carry high capacity weapons, I have NO issue with them carrying such weapons, but there needs to be some serious training involved, some weapons training, marksmanship training and proper target acquisition skills.
Back in the *OLD DAYS* cops carried revolvers, they had 6 rounds of ammunition available and then they had to reload their weapon. The *OLD GUYS* that carried those *6 shooters* were much better shooters than these guys today, they had to be, their ammo was limited by the technology of the day.
There are far too many incidents now where Officers fire massive numbers of rounds and didn't KILL the subject that brought about the shooting, sometimes they didn't even HIT that subject. In this case, that's a good thing, otherwise, 2 women would be DEAD and the LAPD would be responsible.