North Texas Prepares for Icemageddon 2013
North Texas braces for ice-laden winter storm
All of North Texas will be under a Winter Storm Warning starting at 6 p.m. Thursday and extending until 6 p.m. Friday. The system will bring the coldest temperatures of the year along with the potential for practically all of North Texas to be covered in ice.

The first dose of cold air is moved into the region late Wednesday, and temperatures were expected to drop into the 30s by daybreak Thursday. The mercury will hold steady or slowly fall throughout the day, and we'll be right around the freezing mark around 6 p.m.

We're in for a frosty weekend. "We do not make it above freezing until Monday afternoon," WFAA Chief Meteorologist Pete Delkus said. SOURCE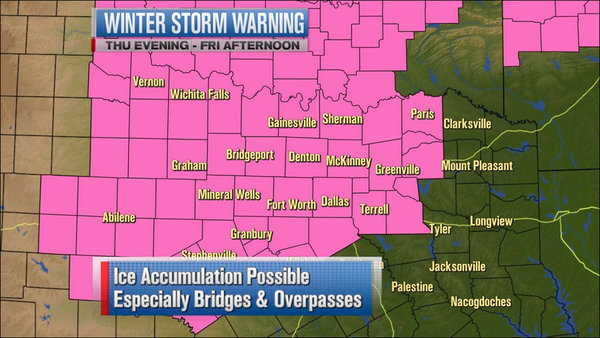 Get ready North Texas, IT IS COMING! The dreaded North Texas ICEMAGEDDON!
We went to Wal-Mart yesterday and bought milk and bread, I have been told that's all that is necessary to survive a Texas ice storm, it must be true, after all, everyone goes out to buy milk and bread to ride out a winter storm here in North Texas.
Personally, I think I should have bought a few eggs too. I could make French Toast!
The 1st drop of rain has yet to fall, no sleet pellets or ice buildup on overpasses and higher elevations, yet, but it is coming. As such, many schools, businesses and events have already announced that they will be closed or have cancelled scheduled events.
Cancellations, concerns beginning to pile up as 'high impact ice storm' approaches North Texas
And so it begins: After days of watches that turned into warnings, below-freezing temperatures and light precipitation are beginning to collide to our north and west … and they're heading this way.

The National Weather Service is now warning that a "high impact ice storm" is "very likely." As a result, some flights into and out of Dallas/Fort Worth International Airport are already being canceled. SOURCE
My wife has to be at work during all of this and right now the company she works for is springing for the hotel for those that live too far to drive and may encounter too much ice or sleet to come in safely. I hope they pick up the meals too, that would not be out of the ordinary.
Now I know that folks living in *The Frozen North* are reading this and having a good laugh at the way we handle an ice storm in Texas, but that's OK. You guys can come down here and show us how it's done when YOU have to drive on ICE, wet ice.
I have been in North Dakota and Minnesota when the roads were covered with snow and ice and we drove just fine once the temperature hit ZERO or below. What a lot of people don't know or understand it this; once the temps dip that low the ice is DRY and traction is awesome, much like driving on concrete.
Wet ice is slick, VERY slick, and I don't care how much driving time you have in *The Frozen North*, this stuff we get here in Texas will dump your tail in the ditch!
So, as one of the coldest events to hit the USA this early in many years, guess what our less than stellar *Fearless Leader* is pushing off on America?
Obama orders government to prepare for impact of global warming
President Obama issued an executive order Friday directing a government-wide effort to boost preparation in states and local communities for the impact of global warming.

The action orders federal agencies to work with states to build "resilience" against major storms and other weather extremes. For example, the president's order directs that infrastructure projects like bridges and flood control take into consideration climate conditions of the future, which might require building structures larger or stronger — and likely at a higher price tag. SOURCE
An executive order to build "resilience" against major storms and other weather extremes, all the while still pushing this global warming hoax.
Yes indeed, I DID say HOAX!