2 officers shot at protest outside Ferguson police station
FERGUSON, Mo. (AP) — Two officers were shot in front of the Ferguson Police Department early Thursday, authorities said, as demonstrators gathered after the resignation of the city's police chief in the wake of a scathing Justice Department report alleging bias in the police department and court.

A 32-year-old officer from nearby Webster Groves was shot in the face and a 41-year-old officer from St. Louis County was shot in the shoulder, St. Louis County Police Chief Jon Belmar said at a news conference. Both were taken to a hospital, where Belmar said they were conscious. He said he did not have further details about their conditions but described their injuries as "serious."

"I don't know who did the shooting, to be honest with you," Belmar said, adding that he could not provide a description of the suspect or gun.

He said his "assumption" was that, based on where the officers were standing and the trajectory of the bullets, "these shots were directed exactly at my officers." SOURCE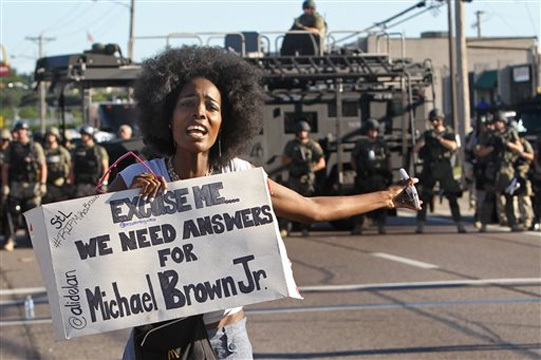 Let me start this by saying; YOU PEOPLE, you bunch of ANIMALS in Ferguson, you don't want JUSTICE, you don't want ANSWERS, all you want is to be exactly what you have long been accused of being and what you have been called. YEP, THAT word!
You raised so much hell that Officer Darren Wilson lost his job and now he, and his family are living in fear for their lives.
You got the President of the United States and the U.S. Attorney General involved in this highly politicized BULLSHIT. 
ALL investigations found Officer Wilson not guilty of anything more than doing his job, but YOU PEOPLE stood and protested, rioted, and whatever other acts of anarchy and lawlessness you engaged it.
ALL investigations found that the *HANDS UP DON'T SHOOT* thing was a lie and just some kind of ignorant catalyst that YOU PEOPLE used in your silly looking marches and riots, walking around with your hands in the air and your pants hanging off your STUPID asses. 
You get the U.S. Department of Justice involved because YOU PEOPLE claim that this Michael Brown, a now dead STREET THUG, was a choir boy that never did a thing that was wrong was murdered by a WHITE Police Officer, but there's one thing wrong with that; the DOJ, under the direction of Eric Holder, a BLACK MAN, and one that, in HIS past, engaged in acts of racial violence himself, couldn't find ANY evidence that your BOY Brown was murdered.
So, guilty or not, the City of Ferguson, under FEDERAL ORDERS is doing all it can to rectify the situation.
Ferguson, Missouri, Police Chief Thomas Jackson resigned Wednesday, joining a string of city officials ousted in the wake of a Justice Department report that found a culture of racism in the police department and city offices. SOURCE
The City of Ferguson is being forced to turn over a *new leaf* and this is what they get?
The U.S. government has surrendered Ferguson to YOU PEOPLE that have caused the violence, the strife and the hatred yet YOU PEOPLE in Ferguson keep right on going with even more anarchy and violence.
My personal hope is that every Officer in Ferguson walks off the job and leaves the city to YOU PEOPLE. I hope you burn Ferguson to the ground, with every one of YOU PEOPLE trapped inside the conflagration.
I anxiously await the condemnation and outrage from Black Leaders for these acts of violence. I guess I had best not hold my breath!