Federal Contractor Monitored Social Network Sites
WASHINGTON — The Department of Homeland Security paid a contractor in 2009 to monitor social networking sites — like Facebook, blogs and reader comments on a news article — to see how the residents of Standish, Mich., were reacting to a proposal to move detainees from Guantánamo Bay, Cuba, to a local prison there, according to newly disclosed documents.

While it has long been known that the department monitors the Internet for information about emerging threats to public safety like a natural disaster or a terrorist attack, the documents show that its Social Networking/Media Capability program, at least in an early stage, was also focused on "public reaction to major governmental proposals with homeland security implications."

A department official said Friday that the social network monitoring program did not produce reports about public opinion, but instead focused exclusively on monitoring crises like hazardous material spills, shooting incidents and natural disasters.

Still, the newly disclosed documents show that in August 2009, during an early test of the program, a contractor compiled reactions among residents of Standish, Mich., to the short-lived detainee proposal. It found that most people "were opposed to the plan," arguing it could make the community a terrorist target, but that others characterized these concerns as "hysteria."

Full Story Here:
Federal Contractor Monitored Social Network Sites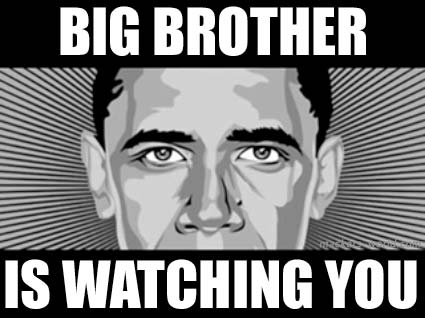 I use my REAL name on this blog, they know who I am and where I live. Ask me if I give a damn.
Some people on the right are about as SILLY as those on the left.
Don't any of you remember the administration of George W. Bush? Don't you remember all of the paranoia that the libbers exhibited and how for EIGHT YEARS all we heard was how EVIL Bush and Cheney were and how they were building the FEMA camps and how ALL on the LEFT were going to be rounded up, NAZI style, and shipped off to those camps?
Now, I am seeing and hearing the exact same thing from people on the RIGHT side of the political spectrum.
I personally know people that are SO paranoid that I have had to pretty much cut them out of my life. I get emails, tons of emails, telling me all about the 'EVIL FEMA CAMPS' and how Obama and Company are preparing them for those on the RIGHT and how we're to be rounded up much like the Jews were in the 1930's and shipped off to be gassed.
Or something.
I know that the government monitors blogs, social networks and so forth, and I have got to tell you, I do NOT care. Not even one little bit.
What are they going to do? Come to my house and arrest me, and charge me for being an incredibly plain spoken and un-PC American patriot? When that day happens my friends, and I don't believe it ever will, but if it does, you'll KNOW it was me that they TRIED to take into custody, it WILL make the news.
Pay attention American patriots, ALWAYS be prepared to defend yourself, your family and home, as well as your rights, but until they come for the GUNS, none of that other BS is going to happen.
If they come for the guns, if they shred the Constitution, if the Bill of Rights is used to line a bird cage, then we have to worry.
If those things DO occur then we have to fight to preserve this nation, but here is a little tidbit for ALL patriots to consider; the American military and American Police Officers, by and large, will NOT follow orders to do such things. Many in Federal Law Enforcement will walk away and turn their backs on anyone that would attempt to take this nation in such a manner. Local and State Officers? They are going to stand with their fellow citizens and defend the Constitution, their cities and towns, states, and this nation!
These men and women are called Oath Keepers! To defend against ALL enemies, foreign and domestic! WE are not the enemy and our LEOs KNOW that!
Here is the other *ace in the hole*; We, The People are the largest standing ARMY in the entire world.
As I said, until they effectively take ALL the guns, none of this BS is going to happen, and that is the truth.
I know, beyond a shadow of a doubt, that this site is read regularly by those in Washington, I have tools that tell me so. I have shown the hits from DoD, the Senate and House, and a few others in D.C. in posts and comments before.
The government IS watching, and reading, but I consider that to be a good thing. As long as they know that there are people out there that won't let an evil bastard like Obama get by with his wish to see Americans under his thumb, they KNOW that freedom will live in this nation.
And who knows, maybe some of those poor souls that are monitoring the blogs, Twitter, Facebook and the like are being educated, and led away from *The Dark Side*.
Sic semper tyrannis!