Families want justice for suspects killed after robbery of Krick's Korner store in Reading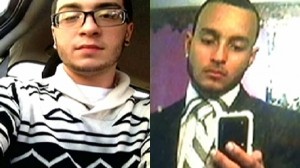 READING, Pa. – Family members of the two masked men shot to death after allegedly robbing a store in Reading spoke out Tuesday.

"It's not fair," said Virginia Medina, mother of 24-year-old William Medina, who police said robbed Krick's Korner store alongside 18-year-old Robert De Carr on Monday.

The two men were shot and killed by a private citizen while leaving the store, and family members want to see charges pressed.

"[William] had no right to lose his life over something that man could have called the police for," said Medina. "He took the law into his own hands and walked away scot-free." SOURCE
I understand the grief of the mother but damn, is she stupid? William had no right to lose his life? No RIGHT? Seriously? If your sweet little William was involved in an ARMED robbery and in the commission of that robbery William pulled a gun on an armed citizen, poor little William had NO rights to anything, well, except maybe a decent funeral.
It's funny how News stories can differ from station to station. According to this source the armed citizen killed 2 ARMED robbers.
A man is being hailed a hero after police say he shot and killed two armed suspects after a robbery at a Berks County convenience store. SOURCE
The original story DID report that William Medina and Robert De Carr were indeed *robbers*, but there is a BIG difference between being a *robber* and being an ARMED robber.
"How about if people just start running around here, policing the city on their own? How much worse is it going to get?" said Peter Ratel, Medina's cousin.
How about if YOU and your family *police* these guys and teach them right from wrong and teach them that pulling ARMED robbery is not really a good idea? Too much for you to comprehend Peter?
The family members said they are hurt by comments suggesting the alleged robbers were "thugs."
You're right on this part family members, they shouldn't be called *thugs*, they should actually be referred to as DEAD thugs now.
According to Medina, William was "no big hard criminal" and was rather a family-man who loved his young daughter.
It really doesn't matter how much he loved his young daughter and was, supposedly, a *family man*. Do ALL *family men* that love their daughters engage in criminal acts such as ARMED robbery? I don't think so, at least not in MY world.
Robert De Carr was described similarly by his sister, Taylor De Carr.

"My brother was a good kid," she told 69 News.
Good kids don't take part in ARMED robbery. Your brother was nothing more than a punk-assed thug that thought he was some big-time gangster with a gun. He paid the price and regardless of what YOU think Taylor, he'd dead and gone and the world is a better place because of his demise.
For those not familiar with these kind of things; any time an armed citizen or a Police Officer does us the good service of removing some *wannabe* bad-ass from this earth we always hear the same cries from the very people that raised said *wannabe* bad-ass.
He was a good boy. He didn't mean any harm. He fell in with the wrong people. He was just having as BAD day. He really loved his Mommy. Pick one, pick several, all are applicable.