How American Presidents Celebrate Thanksgiving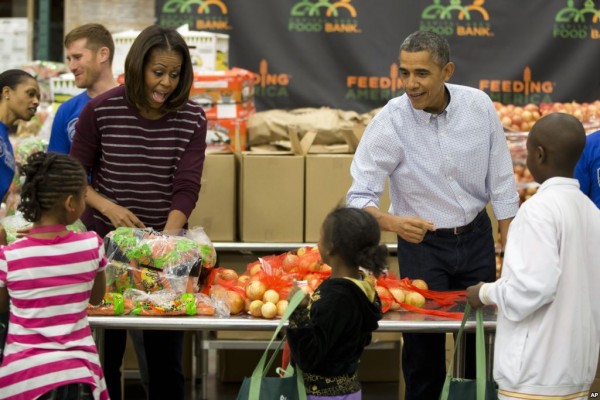 President Barack Obama, right, and first lady Michelle Obama
participate in a Thanksgiving
service project by handing out food
at the Capital Area Food Bank in Washington, Nov. 27, 2013.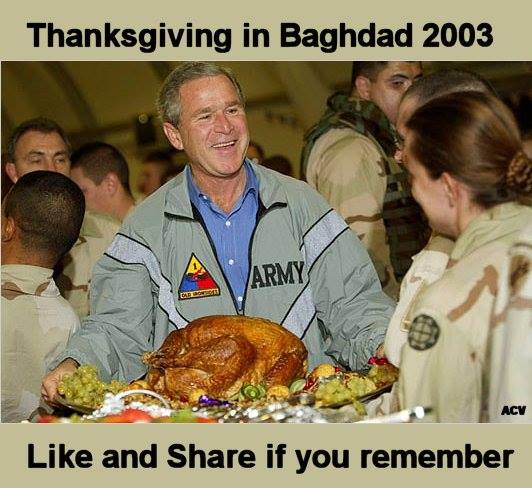 This is how a REAL President celebrates Thanksgiving
On this Thanksgiving of 2013 let us remember that once upon a time we had a President that braved the perils of an active combat zone to share and celebrate Thanksgiving with American troops that were in harms way.
George W. Bush was many things, but a coward was not one of them. He held his troops in great esteem and he made it known, not just with words, but by his actions. It was so obvious, George W. Bush loved the troops, and he wasn't bashful about showing it.
Barack Hussein Obama has nothing but contempt and utter disdain for American troops of all branches. His actions and body language when around our troops speaks louder than any words can.
To my family and friends, our Troops around the world and to ALL 1st Responders, I wish you a Happy and SAFE Thanksgiving for 2013!