Four days of migrant raids rattle Corsicana TX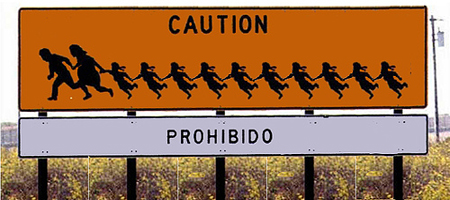 CORSICANA — The weight of their families rests heavily on the teenage shoulders of Rubi Ibarra and her cousin, Jorge Regalado.

Their fathers were among 27 people detained last week when immigration authorities descended on Navarro County, leaving the youths as breadwinners for their extended family.

Rubi, 15, is a U.S. citizen, and Jorge, 17, is a Mexican immigrant able to live and work legally in the country. Their new roles are just sinking in.

"Everything used to be fine before this happened," Jorge said this week, slumping into a sofa at his home as cartoons played on the television. "Now I'm scared someone will knock on the door real hard." SOURCE
Everything was fine for you until ICE started enforcing the law Jorge? If they knock real hard and your work visa is expired you'll know to have your bag packed for a trip back to Mexico. If your work visa is in order and you're here legally then you're just a stupid, crap-stirring Mexican trying to inflame tensions and illicit a bit of sympathy.
Immigration — the action of coming to live permanently in a foreign country.
Illegal Immigrant — a foreigner who enters the U.S. without an entry or immigrant visa, especially a person who crosses the border by avoiding inspection or who overstays the period of time allowed as a visitor, tourist, or businessperson.
How hard is this to understand? Maybe it needs to be printed in Spanish. Or maybe not. Obey the LAW and everyone is happy.
I am the grandson of an immigrant that before settling in Louisiana came to Texas from New Brunswick Canada. 
He became an American, raised an American, English speaking family. His sons served in the U.S. military, most of his grandsons, one of his granddaughters and now a great grandson have served this nation. We have all, in one way or another served this nation.
Come to the USA to become an American, not some hyphenated BS, just an American and nothing more and it's all good.
Of course the Liberals on the Dallas Morning News were apoplectic that we, as a nation, were actually enforcing THE LAW. Laws are not made to be broken; if it's a BAD law then take it up with the governing body of the nation and have it repealed.
Otherwise; enforce immigration laws equally and justly.