Lowe's pulling ads from Muslim show sparks protest
ALLEN PARK, Mich. (AP) – Protesters descended on a Lowe's store in one of the country's largest Arab-American communities on Saturday, calling for a boycott after the home improvement chain pulled its ads from a reality television show about five Muslim families living in Michigan.

About 100 people gathered outside the store in Allen Park, a Detroit suburb adjacent to the city where "All-American Muslim" is filmed. Lowe's said this week that the TLC show had become a "lightning rod" for complaints, following an email campaign by a conservative Christian group.

Protesters including Christian clergy and lawmakers called for unity and held signs that read "Boycott Bigotry" and chanted "God Bless America, shame on Lowe's" during the rally, which was organized by a coalition of Christian, Muslim and civil rights groups.

Rep. Rashida Tlaib, a Detroit Democrat and the first Muslim woman elected to the Michigan Legislature, said it was "disgusting" for Lowe's to stop supporting a show that reflects America – the conservatives, liberals and even "the Kim Kardashians" in the Muslim community, she said.

"We're asking the company to change their mind," said protester Ray Holman, a legislative liaison for a United Auto Workers local. He said he was dismayed that the retailer "pulled sponsorship of a positive program."

Full Story Here:
Lowe's pulling ads from Muslim show sparks protest
Maybe I'm just old fashioned. Maybe it's because I have old fashioned values. I have taken nearly a week just to weigh in on this one. I was simply not believing the way it was going down.
That said, it seems to me that Lowe's, or any other business concern in this nation, has the right to spend its money on whatever they deem to be a good expense.
I can't find any evidence where a precedent has been set, one that gives government the right to tell Lowe's, or any of us for that matter, where WE can spend our money, or on WHAT we can buy with that money.
The All American Muslim? Is that not a misnomer? A will–o'-the-wisp maybe? See this; CAN MUSLIMS BE GOOD AMERICANS? and decide for yourself.
Was sponsorship pulled because of complaints from Lowe's customers and their protest or was it pulled because the show SUCKED? Seriously, who really gives a damn about obvious propaganda from the networks? If these people were 'good Americans' they wouldn't be Muslims in the 1st place.
A local rabbi extended his support to clergy at the protest and local Arab Americans, saying he and other Jews would have been at the protest had it not fallen during the Jewish Sabbath.

"I hope that they would likewise stand up and demonstrate should something outrageous like this take place against another religion," Rabbi Jason Miller said in a statement.
I can't imagine WHY a Rabbi would be supporting this program in ANY way. The express intent of Islam, and ALL Muslims, is the total destruction of Israel and the death of ALL Jews that don't submit to Islam and pay the Jizya tax. Why would a Rabbi stand in support of a people that want him and his fellows dead?
Saturday's rally was met by about 20 counter-protesters including John White, who lives in nearby Livonia and called those protesting against Lowe's "terribly misdirected." He acknowledged that he hadn't watched the show, saying he'd seen previews and read about it, but believed the company made a decision based on business, not bigotry.

"Americans are not suspicious … of baseball-playing, apple-pie eating Muslims," he said. "It's the ones you see on the news."
John White is a tool, a gullible representation of those that fall for the stories handed out by the left and the American media that they control! White is, apparently, uneducated to the ways of Islam and the true EVIL it represents.
In MY opinion, if you're a 'good American' you're not a Muslim or a supporter of Islam.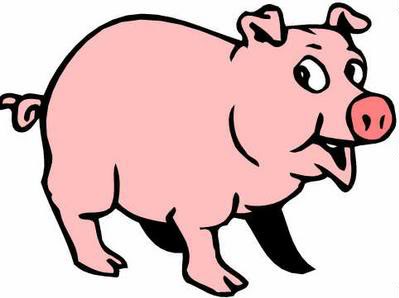 Embrace the Pink Pig!