Santorum revels in sudden support – but how deep?
BOISE, Idaho (AP) – The latest Republican to surge in polls, Rick Santorum is trying to turn his newfound strength into something lasting.

Curious Republicans now pack his rallies. Supporters have funneled nearly $4 million to his formerly empty campaign account over the past seven days. And his staff is plotting an aggressive strategy to challenge Mitt Romney in Romney's native Michigan and beyond.

But things don't look so strong just beneath the surface.

Santorum is underfunded and outmanned. He's still lacking in organization, a month and a half into the primary season. And, after he won three contests in a single day last week, his opponents – on the right and the left – have begun their own efforts to tear him down.

Full Story Here:
Santorum revels in sudden support – but how deep?
Is Rick Santorum the 'Crusader' that is going to save America?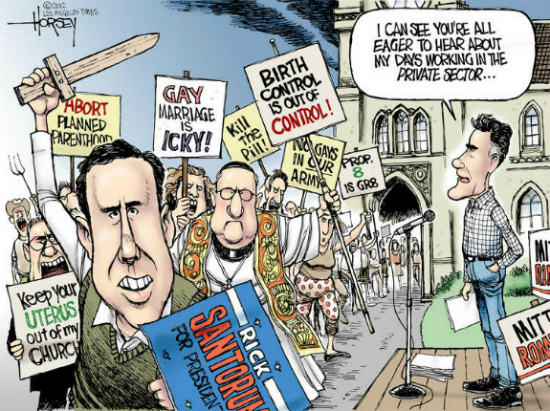 I am in agreement with Santorum on most issues; abortion, homosexual marriage and such, but I am not one that believes contraception to be the same as an abortion.
Sue me!
I was raised in the Catholic Church as a child, my views on abortion haven't changed too much in that area, at least, the idea of abortion on demand. The idea of late term abortion is an issue that angers me beyond belief … but I just don't see taking *The Pill* as being in the same category as abortion.
I have to say this, in SOME cases, abortion, while possibly being the wrong answer, may be the only answer in cases of rape or incest. Why should a woman, regardless of her age, be forced to bear a baby that is the result of rape?
And yes, I know, I have heard ALL the reasoning behind the NO ABORTION idea; give the baby up for adoption, it's not the babies fault, they didn't ask to be born, ALL of it, and those that say these things are correct, it's NOT the babies, and yes, adoption IS an option, but in a case of rape or incest I fully believe the woman should have the final decision.
And I also fully believe that the government needs to get OUT OF that decision.
I also fully believe that in a case of serious danger to the health of the mother, then the decision falls squarely on her, she is, after all, the one that will face the consequences in the after life we all hear so much about.
Abortion on demand? Because little Miss So-and So is a slut? No, that is wrong, that is an abortion not brought on by a rape or incestuous action, it's an abortion brought on by a conscious, and irresponsible decision and action on HER part.
Contraception would stop a lot of this, and granted, the pill may indeed promote a sexual promiscuity among some people, but without the pill, that promiscuity would lead to many unwanted pregnancies that end in abortion.
It's a slippery slope, and a lot of it could be avoided if some people exercised just a small bit of personal responsibility, but tell me, HONESTLY, when has personal responsibility ever overcome the throes of passion?