Two Suspects Arrested in Oklahoma Shootings
TULSA, Oklahoma (AP) — Police backed by a helicopter arrested two white men early Sunday and said they would face murder charges in the recent shootings that terrorized Tulsa's black community and left three people dead and two others critically wounded.

Police spokesman Jason Willingham said the two men were arrested at a home just north of Tulsa about 2 a.m. Sunday and were expected to be charged with three counts of first-degree murder and two counts of shooting with intent to kill in the spate of shootings early Friday. He said police made the arrests after receiving an anonymous tip.

While police identified the men as white and all the victims are black, authorities have not described the shootings as racially motivated and declined to discuss that issue Sunday.

Community leaders, however, expressed concern about the motivation for the shootings on Tulsa's predominantly black north side, as well as the possibility that they would provoke a vigilante response. The Rev. Warren Blakney Sr., president of the Tulsa chapter of the National Association for the Advancement of Colored People, a civil rights organization, said Sunday that word of the arrests had provided a great sense of relief.

Full Story Here:
Two Suspects Arrested in Oklahoma Shootings
Community leaders expressed concern about the motivation for the shootings on Tulsa's predominantly black north side?
Motivation? Well, I have to offer this as a possible MOTIVATION: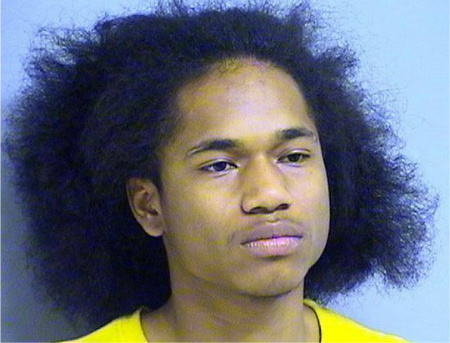 Man charged with murder in deadly home invasion
A man accused of assaulting an elderly couple this month was formally charged Monday.

Tyrone Woodfork, 20, was charged in Tulsa County District Court with felony first-degree murder, two counts of robbery with a firearm and first-degree burglary.

Bob and Nancy Strait were assaulted March 14 in their home in the 3300 block of East Virgin Street. Nancy Strait died March 15 from injuries related to the assault. Bob Strait is still recovering from multiple injuries.

Woodfork was arrested March 15 after witnesses reported seeing the couple's stolen 2001 Dodge Neon in the 3500 block of East Fourth Street. He remains in the Tulsa Jail without bond. SOURCE
Tyrone Woodfork allegedly RAPED Nancy Strait, and she died of injuries received at his hands. Mr. Strait served in the 101st Airborne during WWII.
NO national media outlets carried the story.
I supposed that if Mr. Strait had shot Tyrone Woodfork, the whole country would know about the story. As it is, only Mrs. Strait died, so it's not of interest to Brian Williams and the rest of the main stream media.
Think about this; after 65 years of marriage, after serving our country, after 90 years of life, Mr. Strait has lost his wife to a rapist/murderer. NO ONE in the national media gives a damn. They're interested in their wonderful hero, poor little Trayvon Martin.
I'm not saying that this was the specific motivation for the recent shootings in Tulsa, and the killing of innocent people that weren't involved is wrong, but motivations, in the minds of individuals that aren't wrapped too tight to begin with, are hard to understand.
Tulsa likes to hide a very dark side of their history, but it appears that at least some still remember the Tulsa race riot, and it might be a refresher that a lot of folks need to see.