Poll: 1-in-4 uncommitted now in White House race
WASHINGTON (AP) – They shrug at President Barack Obama and Republican challenger Mitt Romney. They're in no hurry to decide which one to support in the White House race. And they'll have a big say in determining who wins the White House.

One-quarter of U.S. voters are persuadable, according to an Associated Press-GfK poll, and both Obama and Romney will spend the next four months trying to convince these fickle, hard-to-reach individuals that only he has what it takes to fix an ailing nation.

It's a delicate task. These voters also hate pandering.

"I don't believe in nothing they say," says Carol Barber of Iceland, Ky., among the 27 percent of the electorate that hasn't determined whom to back or that doesn't have a strong preference about a candidate.

Full Story Here:
Poll: 1-in-4 uncommitted now in White House race
Pay attention America!
This graphic says more in a few words than most of us can say in a huge post!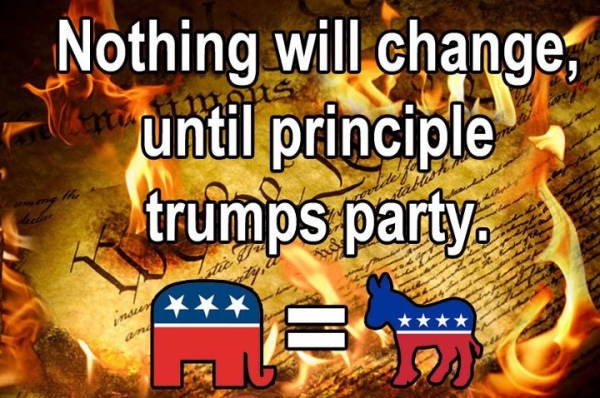 There's not a lot of difference between the GOP and the Democratic Party now a days, there hasn't been for quite a long time. I have referred to the GOP as Dem-Lite for a long time now.
Today, the actions of the so-called LEADERS of BOTH parties fully illustrate that they do indeed put PARTY loyalty before this nation and the wishes of the voter.
It's about time for WE, THE PEOPLE to burst that bubble our elected leaders live in, the one that insulates them from us. It's time to get their attention my friends.
My Congressman, Sam Johnson (TX-03) is a prime example. He sits in the Hallowed Halls and does pretty much NOTHING! But he can be counted on for a YES or NO vote on whatever it is the GOP needs a YES or NO vote on. But we keep sending him back.
That is NOT what I call *service to the constituents*, it called being a *rubber stamp* and a member of *The Good Old Boys Club*. Yes, that *club*, and it DOES exist; private clubs with wood panelled walls, rich, old leather chairs, heavy tables and the thick haze of Cuban cigar smoke swirling about.
I have preached it long and loud, AMERICA 1st, but for so many, probably many more than we actually know, it's not about America 1st, it's about *The Party*.
Sadly, it's about taking care of themselves as they serve, wait, not SERVE, as they take up space for decades, draw a huge check year after year, accrue retirement and medical benefits that the average American can't begin to imagine, and fill their personal coffers with treasure!
I am NOT at all against an elected official making a decent living, but it's a rare occasion when an elected official doesn't leave their public life without having a well feathered nest.
Elected service to this nation should be a privilege, not a lucrative career.
Once that elected service is ended (term limits), that person needs to return to a job, a life as an average citizen, and go back to being *one of us*.
When we send men and women of PRINCIPLE to Washington, when we send America 1st PATRIOTS to be our lawmakers, when we send those people, and impose a strict set of TERM LIMITS upon them, and take away the LIFETIME benefits they receive because they did a DUTY to this nation, when Americans serve in Washington for LOVE of America and not for personal gain, then, and ONLY then, will this nation return to a position of greatness and regain the respect we once enjoyed!