Obama: Martin 'could have been me' 35 years ago
WASHINGTON (AP) – President Barack Obama grappled with the Trayvon Martin case in the most personal of terms on Friday, telling Americans that the slain youth "could have been me 35 years ago" and urging them to do some soul searching about their attitudes on race.

The nation's first black president said the nation needs to look for ways to move forward after the shooting and trial in Florida. And he said it may be time to take a hard look at "stand your ground" self-defense laws, questioning whether they contribute "to the kind of peace and security and order that we'd like to see."

"Where do we take this?" Obama wondered aloud during an unscheduled appearance in the White House briefing room. "How do we learn some lessons from this and move in a positive direction?" SOURCE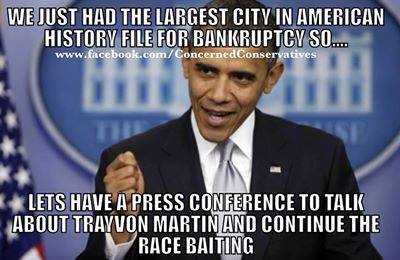 OK, some folks have been concerned, they know I am speaking the truth about Obama and his EVIL and RACIST regime, but they are afraid I am being too honest regarding all that is wrong with Barack Hussein Obama and his obvious RACISM, they are afraid for my safety because of the TRUTH I speak.
To my friends that are concerned about me, don't be. The TRUTH must be written, the truth must be documented and the most criminal, corrupt and anti-American regime in the history of this nation MUST be exposed, talked about, discussed and made public for all to see. That is MY personal mission in life now, if speaking the truth gets me in a heap of trouble with the Obama regime, then you will ALL know; this is not America.
For those that don't know this already, you are about to be given a *lesson* in what is really in the heart of this EVIL person in the White House.
Barack Hussein Obama doesn't give a DAMN about you, me or any other WHITE American. Obama, if the truth were told, doesn't give a DAMN about the Black people of this nation either.
All Obama cares about is Obama! That's it, period, end of the Obama *care* list.
Now here is the part that some of my friends cringe about me saying; Barack Hussein Obama is a racist, a race baiter and all he cares about is using his mixed racial background to play to as wide an audience as possible. Well, most of the time.
Today Obama is Black!
What we saw from Obama today is a shame, a travesty of the 1st order. Obama makes a huge speech about the Martin/Zimmerman affair when the City of Detroit has declared bankruptcy.
Obama makes a RACE SPEECH while a large American city fails, and that failure can be directly attributed to the Democrats of this nation, their lack of business acumen and their overall corruption.
Obama makes a RACE SPEECH in an extremely lame attempt to deflect attention from the scandals at IRS, DOJ, Fast and Furious, Benghazi and any number of failures that would have Democrats SCREAMING for impeachment if the POTUS happened to be a White person and a Conservative.
Obama seeks to deflect attention from his failures for another reason as well; Obama wants to incite race riots in this nation.
There, I said it!
Obama would then have all the pieces in place that would allow him to declare martial law and then order the confiscation of ALL guns that are privately owned and in the hands of lawful American citizens. That is, in MY opinion, the ultimate goal for Obama and his regime. It would give him, so he thinks, full and unlimited control of this nation and all factions of government.
What Obama doesn't realize is that at least 75% of ALL Police and Military will also see right through his plan and will refuse to accept his ILLEGAL orders. Those American Patriots are called Oath Keepers, and if you were ever a Cop or a Soldier, past or present, you took an OATH to defend this nation against ALL enemies, foreign or domestic.
The biggest enemy the American people face today is Barack Hussein Obama and these Oath Keepers are ready to stand in his way!
This little article gives me great faith in my fellow Oath Keepers and Patriots; Florida shop offers free gun to George Zimmerman.
That is called Justice for George!