Obama urges nation to demand a 'common sense' balance on gun control, gun rights
President Obama, addressing yet another memorial gathering after a deadly mass shooting, said Sunday evening that he senses "a creeping resignation" in the United States that homicidal lunacy like the Washington Navy Yard massacre "is somehow the new normal." But he said "it ought to be a shock to us all" and should spur Americans to demand "a common sense" balance between gun rights and gun control. SOURCE
I have contended since his first election; Barack Hussein Obama is a fool, nothing more than a useful *tool*, much similar to a puppet, having his strings pulled by persons or groups that have found a dupe, a willing dupe, one that is perfectly fine with the idea of destroying the United States of America.
"To conquer a nation, first disarm its citizens." ~Adolph Hitler~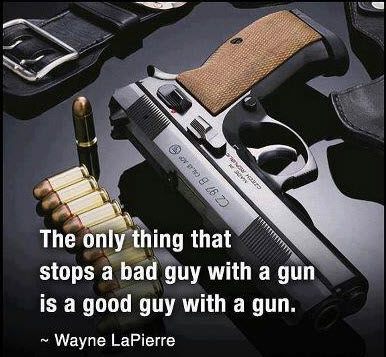 If Barack Hussein Obama and his fellows had their way the law abiding and sane American citizen would disarmed and forced to bear that action in the name of *it's for the children*, when the truth of the matter is this; it's NOT for the children, it's for those that seek to exert total dictatorial control of We, The People, and the only way that can become a reality is to vilify guns and gun owners, those of us that don't commit the crimes or the murders.
If this were not the truth the Obama regime would be addressing the real issues of gun violence; the BAD people, those that will be criminals regardless of what the law of the land says, and the INSANE that have NO BUSINESS owning or possessing guns, individuals like Aaron Alexis, a person that clearly had mental issues yet was allowed to work for the U.S. government with a *secret* clearance.
That is the abject failure of *the system*! When our military and Federal law enforcement officials can't ferret out a NUT JOB then I have no faith in ANY of the gun control measures offered by Obama and his cronies.
"By now . . . it should be clear that the change we need will not come from Washington, even when tragedy strikes Washington," he said at Sunday's service on the barracks parade grounds. "Change will come the only way it ever has come, and that's from the American people."
The immediate knee-jerk reaction from ALL anti-gun people is BAN GUNS and put even stricter, more restrictive gun laws in place.
Guns are outlawed in Washington, D.C. and guns in the hands of anyone other than Law Enforcement are strictly prohibited on military installations. How much more restrictive can gun laws get short of total confiscation?
"Part of what wears on . . . is the sense that this has happened before," the president said. "What wears on us, what troubles us so deeply, as we gather here today is this senseless violence that took place in the Navy Yard echoes other recent tragedies."

And he intoned the names of the places he has visited as president in the wake of mass homicides: Fort Hood, Tex.; Tucson; Aurora, Colo., and Newtown. "Once more our hearts are broken," he said. "Once more we ask why."
Ft. Hood; a military base where ALL guns are prohibited to anyone other than Law Officers.
The Aurora theater shooting; a gun free zone as declared by the theater owners and/or management.
Newtown; a SCHOOL for crying out loud, a GUN FREE ZONE as declared by Law and the LAW meant nothing to the shooter.
Gun Free Zones; for the criminally insane, for those intent on committing a heinous, headline grabbing crime, a GUN FREE ZONE is a flashing neon sign just begging to be violated.
We have already heard many crying for even stricter gun laws, we have heard many rail against high capacity magazines and semi-automatic rifles like the AR-15 and AK-47, wanting them to be banned and ILLEGAL to own.
I say this with a great deal of confidence; many of those elected to high office, the ones calling for these increased restrictions and the banning of certain, if not ALL guns, are the most incredibly STUPID people to walk the soil of this great nation. Guns don't commit crimes, people do.
An old line that bears repeating; When guns are outlawed only OUTLAWS will have guns, and if anyone believes that ALL GUNS can be taken away from the American people, those persons are too stupid to even acknowledge.