Change Must Come for America to Survive
America is facing what can only be described as the most important election in our modern history! The American people will either stand and place a Conservative majority in BOTH Houses or we face what can only be described as the *destruction of freedom* as we are *RULED* by a Socialist tyrant.
President Obama: I'm the Law
One question congressional and presidential candidates should be asked is how we should go about restoring the rule of law to our federal government. Not even during the world wars of the last century was the executive branch as brazen in assuming sweeping and unlegislated powers, changing laws without the consent of the legislative branch and ignoring laws it didn't like.

Lawsuits are certainly one possible avenue to take, but a slow one–which is what the White House is counting on. It will do what it wants, and by the time an unfavorable decision is handed down, it will have done many other things. It will also find ways to circumvent such a decision or just ignore it altogether.

How will the Administration act when, as is likely, the Supreme Court delivers an adverse ruling concerning the President's appointment of members to the National Labor Relations Board when the Senate wasn't technically in recess? Obama's appointees went on to make rulings that were harmful to business. Of course, the Administration will promise to comply and will then pull who knows what cards it has up its sleeve to make an end-run around the decision. SOURCE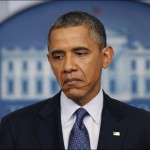 To Barack Hussein Obama I say this; NO you egotistical SOB, you are NOT the Law!
It appears that many in this nation have seen, or are rapidly discovering this truth to be self-evident; Barack Hussein Obama is attempting to place himself in the position of Supreme Dictator of the United States of America.
Last month, President Obama declared he'll "act on my own," that he doesn't need Congress to exercise his power.

"We're not just going to be waiting for legislation. I've got a pen . . . and I can use that pen to sign executive orders and take executive actions," he asserted. "One of the things that I'm going to be talking to my Cabinet about is how do we use all the tools available to us."

He's already made good on his promise to act unilaterally — delaying the ObamaCare mandate on businesses again last week and changing the rules for immigration enforcement. SOURCE
Ladies and Gentlemen I submit that those are not the words or actions on a man that is President of the most powerful FREE nation on earth, those are the words of a *Tyrant in the making*, one that hates America and the Constitution, one that has already presided over the denigration and partial destruction of America; a man that has forced a reduction in our military power and a reduction of benefits for American Veterans, a man who's financial leadership caused the United States to suffer credit-rating downgrades, a man who has made no secret of his undying love and adoration of Islam.
The list is long.
Barack Hussein Obama is, in addition to being a *wannabe Dictator*, is a LIAR of the 1st order and speaks against this nation, and everything we have ever stood for, to anyone that will listen to his incessant babbling about the greatness of Europe and his love and respect for Islam.
"Whatever we once were, we're no longer a Christian nation."

"As a student of history, I also know civilization's debt to Islam."

"Islam is not part of the problem in combating violent extremism – it is an important part of promoting peace."

"My job to the Muslim world is to communicate that the Americans are not your enemy. We sometimes make mistakes. We have not been perfect."

"I would like to think that with my election and the early decisions that we've made, that you're starting to see some restoration of America's standing in the world."
I find that last one to be particularly hilarious. If anything, all the election and presiding actions of Obama have done is cause this nation to be weakened on the world stage; a fact that is NOT lost on our enemies.
Barack Hussein Obama and his evil REGIME must be contained, they MUST be stopped and the only way that will come about is for the U.S. government to be placed in the hands of true Patriots and Conservatives, men and women with the mental ability to lead, the mental toughness to take on ALL enemies and the moral compass to know what is right and what is wrong.
The Democrats MUST be soundly defeated in the upcoming elections if this nation is to survive and remain FREE. We MUST retain the House and re-take the Senate, and in doing so we MUST seat Senators and Congressmen that will fight FOR the American people and not succumb to the ways of the RINO! Republicans In Name Only!
Otherwise, the Supreme Court is in grave danger of falling into the hands of Liberal Justices that can, and most likely WILL do the bidding of Obama and his stooge, Eric Holder.
But make no mistake my friends; The RINO is as dangerous to American freedom as is a Liberal Democrat.
If you doubt that just look at Mitch McConnell, John McCain, John Boehner and all of the other RINOs that *go along to get along*.