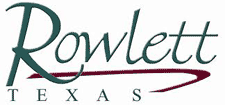 Rowlett takes a cost-of-services approach to taxes
Rowlett city leaders are selling the need for more of residents' money by comparing the price for city services to a daily Starbucks or a cable-internet-phone charge.

It's a more favorable comparison for Rowlett than the per $100 valuation tax rates of neighboring Garland or Rockwall.

But changing the mindset from tax rate to cost of services may have been the softer sell within the city's recent public campaign toward a tax increase. Part B of the message is that with higher per capita income than residents of neighboring Dallas County cities, the average Rowletter can afford to upsize to a latte or LTE.

A four-page flier sent to 19,000 homes refers to paying $2.73 a day for city services as an "incredible value." It breaks those down into individual services: 58 cents for police, 44 cents for fire, 24 cents for public works, 19 cents for parks, 6 cents for the library, etc.

"Unfortunately, these services are no longer sustainable at the current tax rate," says the flier, a precursor to six April community meetings in the "My Community. My Money. My Choice." campaign. SOURCE
What a lot of people don't understand is this; a City is basically a business and needs to be run like a business. As such, the old axiom of *if you want to make money, you have to spend money* once again comes into play.
We have some folks here in Rowlett that want EVERYTHING imaginable but scream like a banshee at the idea of a tax increase, by ANY name.
If Rowlett residents want to have a continued level of city services, not increased, just maintained at the present levels, there still needs to be more revenue generated by the City.
Alternatives? Sure, we have alternatives; cut services, do less street and alley maintenance, lay off public works, police and fire employees and close at least ONE Fire Station, or maybe close the public library, or drastically cut back on its hours of operation.
To paraphrase; if you want to maintain, or increase your city services you have to increase the money taken in by the city. It is, after all, simply put, a business.
Is there *hidden money* that our officials may not be aware of? Money that has been hidden, or buried by previous administrations perhaps?
We have the most competent Mayor, Council and City Management team we have had in the over 10 years I have lived in Rowlett, and they have made their case very well, but perhaps they need to hear a few other ideas from long-time residents that have the best interest of Rowlett in their hearts.
Otherwise, we're going to be driving on the best *gravel roads* in Texas, hopefully we'll have a really good volunteer fire department and hey, no more need for police to conduct traffic patrols. The streets will be too bad to drive fast on.
P.S. I am going to be out working in the yard today, if any of our City Council would care to stop by and visit, and help a bit, I'll make some coffee and we can discuss this.