Without fanfare, Obama advances transgender rights
SAN FRANCISCO (AP) — President Barack Obama, who established his bona fides as a gay and lesbian rights champion when he endorsed same-sex marriage, has steadily extended his administration's advocacy to the smallest and least accepted band of the LGBT rainbow: transgender Americans.

With little of the fanfare or criticism that marked his evolution into the leader Newsweek nicknamed "the first gay president," Obama became the first chief executive to say "transgender" in a speech, to name transgender political appointees and to prohibit job bias against transgender government workers. Also in his first term, he signed hate crime legislation that became the first federal civil rights protections for transgender people in U.S. history. SOURCE
For anyone that missed it or doesn't remember it.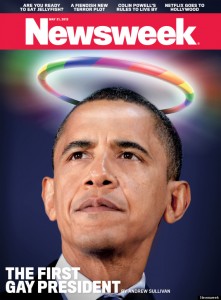 5 things to know about transgender people
SAN FRANCISCO (AP) — President Barack Obama has quietly done more to advance rights for transgender people than any other president, but they remain among the nation's most misunderstood minorities. Here are five things to know about transgender America: SOURCE
I am NOT a tolerant person. I know what I am and what I believe and I consider it to be my RIGHT to express my views and to hold these beliefs as much as *others* are entitled to espouse theirs.
I honestly don't care which team you play for, that is your business, but when it starts to affect the politics of America as a whole, when the POTUS is more concerned with the rights of homosexuals and transsexuals than he is with the care of wounded Vets and Americans in need, well, then it becomes my business, and anyone that thinks I won't have a few things to say doesn't really know me.
Transgender is the state of one's gender identity (self-identification as woman, man, neither or both) or gender expression not matching one's assigned sex (identification by others as male, female or intersex based on physical/genetic sex).[1] Transgender is independent of sexual orientation; transgender people may identify as heterosexual, homosexual, bisexual, pansexual, polysexual, or asexual; some may consider conventional sexual orientation labels inadequate or inapplicable to them. The precise definition for transgender is changing but nevertheless includes: SOURCE
Can a human being actually be of *both* sexes? According to articles I have read; yes, it is a possibility and that person can possess the sexual organs of both male and female. In a case such as that I can fully understand the need, or want to change yourself into the dominate gender that you feel yourself to be. I can't even begin to imagine the life quality and confusion someone must experience that is of BOTH sexes.
In MY opinion; to have sexual reassignment done just so you can be the skankiest skank at the tranny party is just plain damned WEIRD. I have never understood cross-dressers of either sex, I don't understand how anyone can be *gay*, a word I rarely use because it is a bastardization of the word and I have absolutely NO grasp of what would inspire a person to have themselves *modified* to what is supposedly *the other sex*.
Again, in MY opinion, sexual reassignment does NOT make a woman into a man or a man into a woman. If it does then I want to see some serious reproduction, but that isn't going to happen simply because the person that has had sexual reassignment is a FAKE and is only fooling themselves, regardless the outcome of their transformation.
Gay gubernatorial candidate leads pride parade in Maine
PORTLAND, Maine — A Democratic congressman and gubernatorial candidate who reluctantly made public his homosexuality last year found himself serving as the grand marshal of Maine's biggest gay pride parade Saturday and urged activists to continue fighting to eliminate discrimination and promote equality.

Rep. Michael H. Michaud, who would become the nation's first openly gay person to be elected governor if he unseats Republican Paul LePage in November, said it would be powerful for the gay community to have a seat at the table in discussions with governors across the country on equality issues. SOURCE
A few weeks ago I made a post on Facebook that was, according to some,  very politically incorrect. Imagine that; me not being politically correct.

I made a kinda/sorta tacky comment about *the little fags* or something similar and it drew a few responses from friends in agreement with my position on that particular article.
Now imagine my surprise when a guy that I have known for 20 years made a comment in response that let me know, in no uncertain terms, that he was offended by my words because he is a homosexual. Actually he referred to himself as a *proud gay male*.
In other words; he outed himself.
Again, I don't care which team you swing for, what you do in your private life, in the privacy of your is your business, but for the life of me I just don't understand this *Gay Pride* thing and why they feel like they have to force it off on others.
Biblical issues aside; how can you be PROUD of being a pervert? What kind of perverse thrill do you get by outing yourself on a Facebook page? Is there some type of pleasurable sensation achieved through *shock value*?
How in the HELL can ANYONE be proud of being a homosexual and why do we, the American public, have to be deluged with their public displays of perversion and open support by the President of the United States for acts that are in no way NORMAL?
I know, some of you are going to say that sexual orientation and politics don't go together and that it's none of MY business.
Tell that to the PERVERT in the White House and tell the News Media that forces these views and stories off on the 97% of ALL Americans that aren't homosexual.
Additional Reading:
New York sued over transgender Medicaid coverage