Points to Ponder regarding Islam, Beheadings and Peace
Police: Woman be headed at Oklahoma workplace
OKLAHOMA CITY (AP) — A man fired from an Oklahoma food processing plant beheaded a woman with a knife and was attacking another worker when he was shot and wounded by a company official, police said Friday.

Moore Police Sgt. Jeremy Lewis said police are waiting until Alton Nolen, 30, is conscious to arrest him in Thursday's attack and have asked the FBI to help investigate after co-workers at Vaughan Foods in the south Oklahoma City suburb told authorities that he recently started trying to convert several employees to Islam.

Nolen severed the head of Colleen Hufford, 54, Lewis said.

"Yes, she was beheaded," Lewis told The Associated Press before a Friday news conference. SOURCE
Islam, as we are constantly told, is supposedly the *Religion of Peace* and that this was an act of random workplace violence, not the act of a radical Muslim. Isn't that what the Obama administration called the Fort Hood shootings? Random workplace violence?
If Islam truly is the *Religion of Peace*, why then do we hear stories from all over the world, and now, more and more, from right here in the U.S. of A. about Muslim fanatics trying to force their beliefs on others and killing, beheading them actually, if they don't accept Islam?
Does that sound like a peaceful religion to you?
Christians are taught that God is LOVE, that there is forgiveness in Christianity and that the brotherhood of Christ is the salvation of man. I have never heard of radical Christians going on killing sprees and beheading anyone that doesn't accept Christ, the Christian folks that I know will still accept you, as is, and will pray for you to see the light and come over to Christianity if you aren't a *believer*, but they won't cut your head off.
Christians are taught love and forgiveness in the name of Christ, not to commit murder and mayhem in the name of a pedophile.
This is the basis for Muslims and their despicable actions, words from the Qur'an;
Qur'an: 9:88 – "The Messenger and those who believe with him, strive hard and fight with their wealth and lives in Allah's Cause."

Qur'an: 9:5 – "Fight and kill the disbelievers wherever you find them, take them captive, harass them, lie in wait and ambush them using every stratagem of war."

Qur'an: 9:112 "The Believers fight in Allah's Cause; they slay and are slain, kill and are killed."

Qur'an: 9:29 "Fight those who do not believe until they all surrender, paying the protective tax in submission."

Qur'an: 8:39 "Fight them until all opposition ends and all submit to Allah."

Qur'an: 8:39 "So fight them until there is no more Fitnah (disbelief [non-Muslims]) and all submit to the religion of Allah alone (in the whole world)."

Ishaq: 587 "Our onslaught will not be a weak faltering affair. We shall fight as long as we live. We will fight until you turn to Islam, humbly seeking refuge. We will fight not caring whom we meet. We will fight whether we destroy ancient holdings or newly gotten gains.

Qur'an: 8:65 "O Prophet, urge the faithful to fight. If there are twenty among you with determination they will vanquish two hundred; if there are a hundred then they will slaughter a thousand unbelievers, for the infidels are a people devoid of understanding."

Qur'an: 9:123 "Fight the unbelievers around you, and let them find harshness in you."

Ishaq: 578 "Crushing the heads of the infidels and splitting their skulls with sharp swords, we continually thrust and cut at the enemy. Blood gushed from their deep wounds as the battle wore them down. We conquered bearing the Prophet's fluttering war banner. Our cavalry was submerged in rising dust, and our spears quivered, but by us the Prophet gained victory."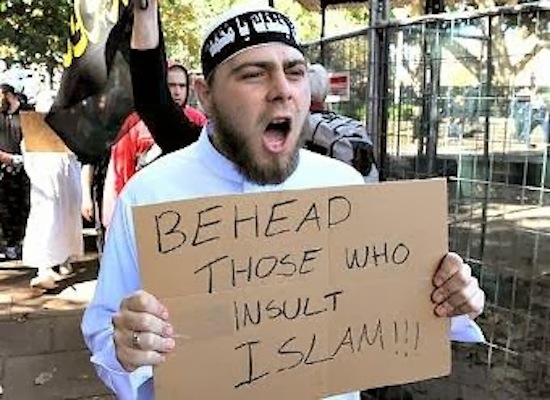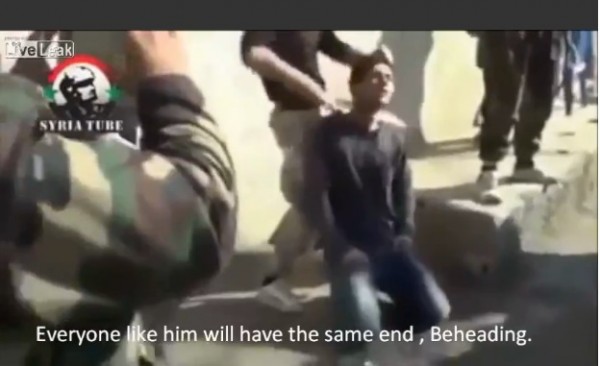 I can't find so much as one word about love and forgiveness in their diatribe of hate and death, all I see is the prattling of a *false god* and *evil prophet*, and if you don't already know, WE are the Infidels that Islam so much wants to destroy.
I'm not a preacher, far from it, but I am an advocate of freedom and right.
How much more of this *Religion of Peace* lie do we have to be fed before we call Islam out for what it truly is? How much longer do we sit idly by as a *stealth Muslim* and supporter of Islam does little, if anything, to stop the infestation of the USA by radical Muslims intent of causing OUR death?
How much longer do we sit idly by as Muslims in America witness the violence that their brothers visit upon mankind yet say nothing against them?
How much longer do we, as a nation of FREE men and women, sit idly by as this farce called *The Religion of Peace* murders American citizens?
When do we declare that WE will no longer tolerate this nonsense and will no longer turn the other cheek? When do we strike back ten-fold, a hundred-fold or more?
I can't speak for all Americans, but speaking for me; my patience has been worn about as thin as it's going to get.
Read into that what you may.
Additional Reading: Taliban behead 12 people in remote Afghan province
Oklahoma beheader's mosque taught caliphate, destruction of US and Israel
Critics blast authorities for treating beheading as case of workplace violence