Boehner faces conservative ire over plan to delay immigration fight
Conservative Republicans are pushing back hard against House Speaker John Boehner's plan to effectively push off the battle over President Obama's immigration plan to next year in order to pass a spending bill, increasing the likelihood he'll need help from Democrats to get it through the House and Senate.

The speaker on Tuesday had put forward a plan to address two tricky issues: letting Republicans vent over the president's controversial immigration executive actions, while also backing a spending bill to keep the government running past Dec. 11, when current funding runs out. SOURCE
I have said repeatedly, on this blog and in other forms of social media, John Boehner is nothing but a damned RINO. The House needs a new Speaker when they reconvene and it does NOT need to be Ol' Crybaby and the Senate is no better off with Mitch McConnell as the Majority Leader. He is just as much a RINO as Boehner.
Boehner's solution is to call a vote on a bill this week opposing and trying to block Obama's immigration orders — though it would likely die in the Senate. Then, the House would vote next week on a bill funding the government through the full fiscal year, and funding immigration-related agencies through early next year. This would kick the fight over the president's immigration plan to 2015, when Republicans have control of both chambers.

But that's not enough for many conservatives, who want to use the current spending fight as leverage to defund the president's plan now. They complain that the planned vote this week would merely be symbolic.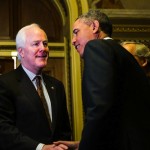 Of course it's a symbolic gesture, Boehner, McConnell and apparently quite a few others have almost immediately returned to the *go along to get along* way of doing the jobs that we sent them to D.C. to do.
We have a Texas Senator that's as much a RINO as any of the bunch; John Cornyn. He has little courage in my opinion and falls right into line with McConnell and a few others.
And then there are Senators like this gentleman.
Sen. Jeff Sessions, R-Ala., blasted Boehner's proposal in a statement late Tuesday, suggesting it violates a campaign promise by Republicans to do "everything" they can to stop executive "amnesty."

"Unfortunately, the plan now being circulated in the House fails to meet that test," Sessions said.
And this gentleman, one that has faced his own demons and apparently managed to get his life and career back in control.
Sen. David Vitter, R-La., said "sending a bill to the Senate without first making an attempt to include defund language is telling the American people that you support Obama's executive amnesty. That would be a slap in the face to the voters who sent a message last month by electing Republican majorities in Congress."
I was happy to see Sen. Vitter come back from that dark place, he is a strong man that had succumbed to his weaknesses but I DO admire anyone that can overcome the *curves* that life throws at them.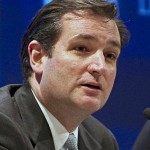 A Senator that I am starting to admire is Ted Cruz.
I wondered if the *hard-assed* persona Ted Cruz presented was real or simply designed to get him elected. I am fairly confident saying that Ted Cruz is the real deal and the *fight* he exhibits is as real as it gets.
Sen. Ted Cruz, R-Texas, on Wednesday urged GOP colleagues to "do what you said you would do" to battle the "amnesty."
Do what you said you would do.
If the business of the government were actually conducted in that manner then America would once again be the most powerful and respected leader on earth. It seems to me that the idea of doing what you said you would do should be the mantra of Conservatives and GOP members in a united push to force RINOs such as Boehner, McConnell and Cornyn out of office.
Boehner is likewise facing some pushback from conservative members of the House GOP caucus. This increases the likelihood that he'll need help from Minority Leader Nancy Pelosi and her Democratic rank-and-file.

Such an alliance would not be unprecedented. Boehner routinely has turned to Democrats to pass major pieces of legislation when he couldn't bring his full caucus on board, including to avert a partial government shutdown. As it stands now, Republicans can only lose 18 of their own before having to turn to Democrats to prevent a partial shutdown.
After this Boehner should be facing massive pushback from conservative members of the House GOP caucus and all members of the GOP as well.
I don't know about you but as far as I am concerned, John Boehner is about as useless as wings on a pig. He isn't a Republican, hell; he isn't even a RINO if he has to call up support from the likes of Nancy Pelosi and her minions. John Boehner is a traitor to the GOP and everything it once stood for and SHOULD STILL be standing for.