Pay attention my friends, this is an educational post that delves into the topic of TRUTH and how critical it is to TELL the truth when being interviewed by Mainstream Media.
City worker faces fallout after claiming Ferguson police shooting was a 'set up'
UPLANDS PARK, Mo. (KTVI) — There has been sharp criticism of an Uplands Park city worker who said live on FOX News that the shooting of the two officers was a "set up" by police.

John Muhammad identified himself as city manager of the tiny north county village of Uplands Park during a live interview Thursday night on FOX News channel. SOURCE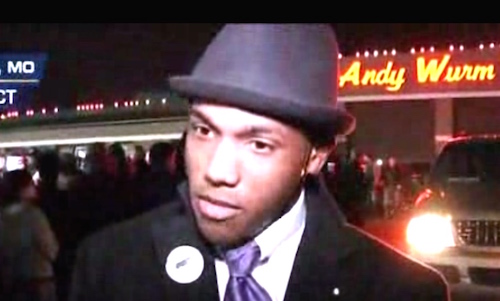 This is a picture of John Muhammad, the character making the statements above and claiming to be *The City Manager* of Uplands Park, MO.
Well, as strange as it may seem, apparently, in Uplands Park they have a different way of defining topics where Muhammad is concerned. It seems that *City Manager*, when translated into REAL WORLD SPEAK, comes out to be VILLAGE IDIOT and LIAR.
John Muhammad identified himself as city manager of the tiny north county village of Uplands Park during a live interview Thursday night on FOX News channel.

Muhammad whose been involved in the protests, is now feeling the backlash. Uplands Park is taking swift action.

Muhammad was interviewed by FOX News reporter Steve Harrigan Thursday night during a broadcast at the vigil in front of the Ferguson police department. He identified himself as the city manager of the tiny north county community, a title that insinuates one who runs the day to day operations of the city.
Here is where that TRUTH thing comes into play. Muhammad made this statement while representing himself as *City Manager* 
"I think it was a complete set up," Muhammad said during a FOX News interview. "I think it was a set up between members of the police fraternity; what I like to call them. I think they operate just like the KKK. I think they did it to make themselves a victim when honestly the victim are black people. I think it's just a publicity stunt no more than that."
Upland Park officials, REAL ones, responded with this; 
Uplands Park officials are furious at those comments. The head of the Uplands Park board of trustees that runs the village says Muhammad is neither the city manager nor the city administrator.

"We don't agree with it here at Uplands Park. We have suspended John Muhammad," said chairman Michel Spurling. "I was angry because he's actually hired as a village clerk."
To which Muhammad responded;
"I'm not caught up on titles or anything like that. My official title is city administrator. If he says it's clerk, then I guess it's clerk," said Muhammad. "I think people had a misconception of what I said. I made a statement under the first amendment of the constitution freedom of speech; that's what I said."
Which, when translated to REAL WORLD SPEAK comes out as; 'OK, so ya'll caught me telling a lie and misrepresenting myself on national television but that isn't the issue we are facing, the issue is, FREE SPEECH and I exercised my free speech and now these racist White folks is suspending me and thinking of firing me just because I'm Black, I'm also a  liar as well as I'm a race baiter and it's Bush's fault…'
Basically.
It also appears that the St. Louis Police Officers Association took umbrage at the words of Muhammad too.
The head of the police officers association takes a dim view of Muhammad's statements.

"I believe in the first amendment. I believe in the right to freedom of speech. But, there's a responsibility with the words that come out of your mouth," said Jeff Roorda of the St. Louis Police Officers Association.

Right now, Muhammad has been suspended from his job in Uplands Park. The village board will meet Monday and make a decision whether to fire him.
I don't know what course of action Upland Park will pursue, I hope they have the BALLS to take a stand and to fire this race baiting LIAR and soon to be professional activist as he falls under the tutelage of Louis Farrakhan, Jesse Jackson and Al Sharpton.
Oh c'mon, you KNOW he will, he's well on his way already. Here are a couple of the *tweets* he made about Ferguson and the part that he plays in it.
Headed to the #Fergsuon Police Station to do what I do best. AGITATE!#ProfessionalAgitator #HandsUpDontShoot #NoJusticeNoPeace
— JOHN C. MUHAMMAD (@JOHNCMUHAMMAD) March 13, 2015
Being a professional agitator must pay pretty well, Louie, Al and Jesse don't look hungry.
In closing; it was NOT the claim he made about the Police *staging* the shooting, it was NOT his activity in the protests, it was NOT his reference to the KKK or his personal racism and obvious stupidity that got him in trouble. John Muhammad is entitled to his beliefs, his racism and his stupidity, he is NOT entitled to lying about his position with Upland Park and misrepresenting himself as something he is not.