Mass murder vs. Islamic Terrorism
Let's do a bit of comparison, shall we?
COLUMBIA, S.C. — The young man accused of the terrible crime was a bug-eyed boy with a bowl haircut who came from a broken home and attended at least seven schools in nine years. Many afternoons, he would sit silently on the curb in front of his roomy yard and, when he tired of it, move to a different curb. He helped neighbors with their yard work, but they still found him strange. SOURCE

Chattanooga, Tennessee (CNN) —The man who killed four Marines in Chattanooga, Tennessee, changed after spending time in the Middle East and "distanced himself" for the first few months after returning, a friend says. SOURCE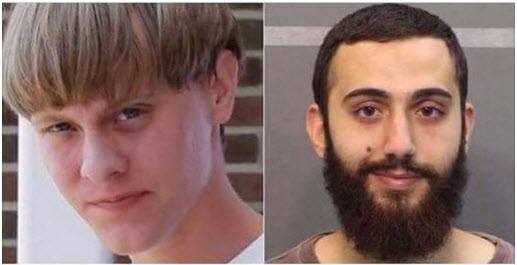 The twit on the left is Dylann Storm Roof, age 21. He is an American, born and raised. He is a true psycho, a racist and anarchist and has caused massive conflict all across America because he was seen waving a Confederate flag is some of his childish pictures that were taken before he murdered nine black parishioners that were attending a church service.
Roof has divided the people of this nation over issues that took place well over 150 years ago and has reignited a BATTLE over the Confederate flag, a rather unimportant issue in my opinion, especially when compared to the crimes Roof committed. 
Mohammad Youssef Abdulazeez, the twit on the right, was a 24 year old man authorities say killed four United States Marines when he attacked two military sites in Chattanooga, Tenn. And was a practicing Muslim who reportedly showed signs of becoming increasingly devout in recent weeks. 
He was a naturalized U.S. citizen originally from Kuwait but at the time of the shootings in Chattanooga he was NOT on any *watch list*.
One of these men is a mass murderer; the other is, in MY opinion, a domestic terrorist that appears to have been recently radicalized to act in the name of Islam and struck a blow against the people, the nation and our military, in other words; he committed an act of WAR.
Now, remember this; Roof is a slime bag mass murderer, nothing more, he killed innocent, unarmed American citizens that were peacefully worshipping their God.
Abdulazeez was a slime bag Muslim that murdered 4 innocent, unarmed Marines going about the business of being USMC members in what I see as an attack on this nation. Roof has seriously divided American beliefs, Abdulazeez has, at least temporarily, united Americans in the love of country and hatred of those that have sworn to destroy us.
Also, do you remember how long it took for Barack Hussein Obama to allow the mass murders at Ft. Hood to be declared an act of terrorism as opposed to *workplace violence* and how long it took for medals and benefits to be extended to the victims and their families?
I wonder how this event will go down with our Muslim loving POTUS?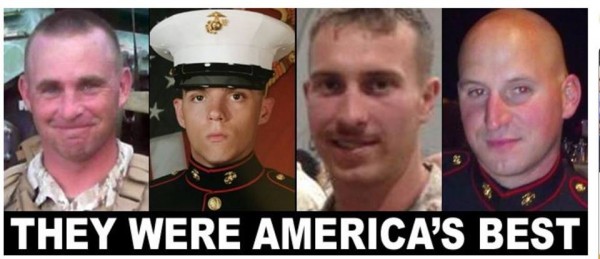 Rest in Peace Marines. Gunnery Sgt. Thomas J. Sullivan, Staff Sgt. David A. Wyatt, Sgt. Carson A. Holmquist, Lance Cpl. Squire K. Wells, Semper Fi.
EDIT TO ADD: And now Navy Petty Officer 2nd Class Randall Smith had died. Rest in Peace Sailor.