So many of you are afraid that the Police in this nation are going to turn on all of us and follow some stupid orders from Obama that WILL get them killed. If you're one of those people, you especially need to read the following.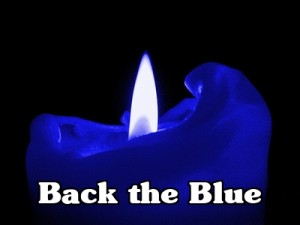 'Horror show' has cop union boycotting Obama
Jerry Flynn, a Lowell cop on leave while serving as executive director of the New England Police Benevolent Association, said his organization's executive board has chosen to boycott President Obama's Labor Day breakfast address in Boston today to make a statement about violence against police:

"Our members are enraged at his lack of support of law enforcement. It's clear that he has an agenda, and unfortunately the police are not part of his agenda. SOURCE 
For the longest time I have had readers of this blog tell me, "I hope you're right Fred, I hope the Police will stand with the American people." Well folks, as most of you know, I HATE UNIONS, and the New England Police Benevolent Association is a Democratic UNION just as much as any other union, and when THEY turn their backs on Obama, it's a whole new ball game.
I have had many more tell me, on my Facebook gun page, The United States Gun Owners Association, that I was *crazy* because the Police were going to turn on the American people and then slaughter us in the streets.
They also said the same thing about the United States military as well, but in ALL fairness, those comments were not made by *normal* people*, they were made by Facebook *anarchists* that see a plot every time someone says *good morning* as they run off to read a column from Alex Jones so they can try to *understand it all*.
I have long maintained that the Police, law enforcement in general and the U.S. military are NOT the ones we need to be concerned with, I have stated on numerous occasions, "At least 75% of ALL Police and Military WILL be on the side of this nation, our people and the Constitution."
I'm not trying to toot my own horn, but folks, I AM RIGHT! 
This is a horror show; this is an epidemic of lawless people trying to kill police officers for no apparent reasons. Case in point is the lieutenant who was pumping gas in Houston. Over 7,000 people were at that church, and where was he (Obama)? Why wasn't he there instead of a unity breakfast?"
The American Law Enforcement community is FED UP with Barack Hussein Obama, his corrupt, Police hating, Muslim loving regime and their efforts to take America into the pits of HELL.
These men and women are, by and large, on OUR side and deserve OUR support and respect. They deserve or protection as well. Back the Blue is not just an expression, it is not something we say simply as a greeting, BACK THE BLUE is a way of life!