Black Lives Matter Protestor Sets Fire to U.S. Flag, Raises Black Liberation Flag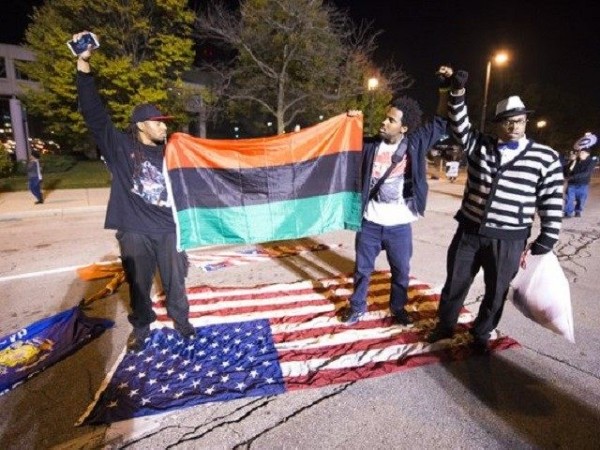 A black lives matter activist burned a U.S. flag and raised the Black Liberation flag to protest the shooting of an alleged unarmed black man by a police officer. He and two other men stomped on the flag and raised the Black Liberation flag while holding their fists in the air.

The Daily Mail reported the flag desecration occurred outside of the Milwaukee Theater where the Republican debate was being held. The demonstrator was said to be protesting the shooting death of an alleged unarmed black man, Dontre Hamilton, by a Milwaukee police officer.

The brother of Dontre, Nate Hamilton, was reported by the local Fox affiliate to have said, "I say destroy the whole constitution, because it never worked to begin with for black people."

The Fox affiliate reported that officials with the Department of Justice had announced that day that there was insufficient evidence to pursue federal criminal rights charges against the officer. There had been a news conference Tuesday afternoon following the DOJ announcement wherein the family of the slain man was reported to have expressed their disdain for the criminal justice system generally and the findings as it related to Dontre Hamilton. SOURCE
Black lives DO matter, ALL lives matter in one way or another but I have to say something and I may offend some of my readers in doing so, but that's a chance I am willing to take.
You Black sons a bitches scream like a congress of baboons about how you're treated so badly in this not so United States and the fact is; you are ALL a bunch of liars, welfare babies, crooks, thugs and baboons! 
And just to be VERY clear, yes, I DO know the difference between a Black person and a stinking-assed baboon!
I made myself a promise a long time ago that I wouldn't use that word on the front page of my blog, I think too much of this blog and the reputation I have built for speaking with honesty and integrity, but I have been pushed about as far as I am going to go, I am beyond giving a DAMN about what some uber-polite White wussies think.
It is NOW time for me to take the gloves off and tell it like it really is, without even a hint of political correctness, and I will no longer speak using innuendo. I will call it like it is and as I see it, and if someone doesn't like it they can click OFF the blog and leave.

To you Black Liberation baboons; You stomp on the American flag and raise your Black Liberation flag as you do your best to convince the world that America has been mean to you, you do everything you can to steal as much as you possibly can from the public coffers, you fake injury to get disability, welfare and food stamps benefits, you sell dope, you pimp your women and you kill each other in the street like the ANIMALS you really are.
You say the Constitution "never worked to begin with for black people" but you seem to forget that the Constitution that YOU denigrate is what gives you and the baboons like you the right to stomp on the flag that good men, of ALL colors, have fought and died for, the flag that represents freedom, a freedom that all American men and women enjoy, no matter what you say or think.
It is that Constitution, and the rulings of a liberal Supreme Court being the only thing standing between you and a massive ass whipping, or worse.
If it's a WAR you no-good sons a bitches want then let it be WAR, you will be surprised at how horribly wrong that goes for you.
Fair warning to all of you ass-clowns and baboons; you have now fully pissed off the rednecks! Let's dance…
Deo vindice.