What good are non-essential employees?
This is one of the most relevant questions to come along in quite a while.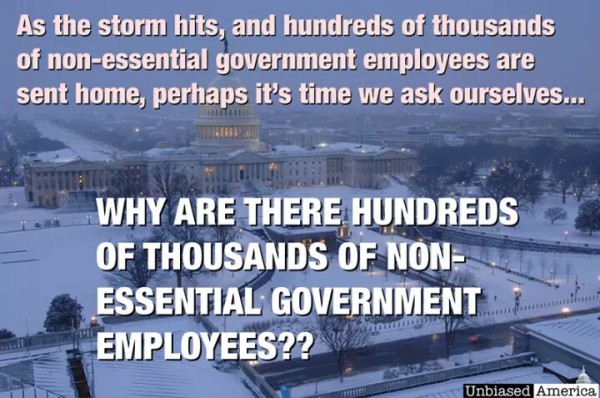 Essential is defined as being absolutely necessary or extremely important.
I actually engaged in *business* for a while before I retired and I always found that a non-essential employee was NOT an asset, rather, was a liability, and contributed, in NO way, to the end result of whatever task or project we may have been involved in.
If there are thousands, or even hundreds of thousands of non-essential government employees *working* for the federal government then that means there are MANY people that are basically STEALING from us, you and me and every American taxpayer out there.
How many successful businesses can keep rolling along if they have a big group of non-essential employees?
The answer to that would be NONE, and if the U.S. government has a very large number of non-essential employees then the U.S. government is being ROBBED just like we are all being robbed by those that are scamming benefits from the same government that seems to enjoy handing out welfare and charity to far too many that are in no way deserving.
This post started as a sarcastic, and possibly satirical effort but it has now gone into the level of truth and questions that really do need to be answered by our elected leaders.
The taxpayer can't afford to sustain the strain of non-essential employees, we need accountability and without it the U.S. budget will continue to be the bloated, destructive monster it has become.
Accountability? Who can make such a thing come to fruition? Damned if I know, Trump is a business man and he could be a possibility, Cruz is a nice guy I suppose but he's a politician.
Until we rein in government spending, no matter who does it, we are on the path to destruction, nothing more, nothing less.  
We have some serious issues ahead of us America, and ANY politician that LIES to us needs to be gone, banished from a position of leadership from now on.
As I once heard said, "If a man will lie, he will steal and damn, I hate a thief…"