Newspapers demand Christie resign, lament endorsement for supporting Trump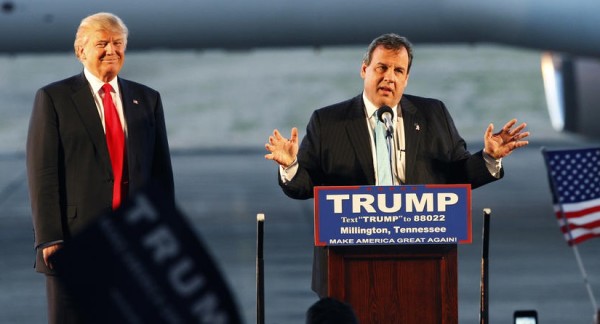 Hit the road, Chris Christie — or face a recall.

That's the message from a joint editorial Tuesday from six New Jersey newspapers that say Gov. Christie has no standing in the state following his endorsement last week of Donald Trump for the GOP presidential nomination.

The newspapers' demand that he steps down comes a day after New Hampshire's most influential newspaper said "boy, were we wrong" for endorsing Christie in November ahead of the state's primary.

The six New Jersey papers note that the governor spent part of 261 days out of state last year campaigning and then continued to travel to support Trump after he quit his own presidential bid on Feb. 10. SOURCE
Isn't it funny how the Liberal media screams about the rights of the people, the minorities and those that come to this great nation illegally expecting to automatically have the same rights of ALL American CITIZENS but when a guy like Chris Christie speaks HIS mind and exercises HIS right to choose, well, that just isn't right, he needs to resign or face a recall.
But wait!
But the papers, including the Asbury Park Press and the Cherry Hill Courier-Post, were spurred to call out Christie after he refused to answer questions Monday from reporters on topics other than the nomination of a state Supreme Court judge.
So, there seems to be a bit more to this story than the headline and opening paragraphs present, there's an issue with a Judge too.
Imagine that, the media using a misleading title to get you to read their screed and further into said screed they get around to telling you *the rest of the story*.
Christie's full-throated support of Trump has also vexed the New Hampshire Union Leader after it endorsed the governor for president.

The paper said last fall that he was "the one candidate who has the range and type of experience the nation desperately needs." The editorial board also liked that Christie told them he would never endorse Trump.
So, it appears that New Jersey and New Hampshire are upset with Christie, but is it because of some Supreme Court judge or is it because Gov. Christie changed his mind and decided to support Donald J. Trump?
Personally, I suspect that it's all about the fact that Christie and Trump are both very vocal and don't really care if you agree or not.
That might be why I like both of them, I am the same way.
But that all changed when the Union Leader's publisher, Joseph McQuaid, said Christie went back on his word. In an editorial Monday, McQuaid said the paper is forced to wipe "the egg off our face."
Did Chris Christie *go back on his word* Mr. McQuaid or did he, as we are all prone to do at times, simply change his mind?
"Rather than standing up to the bully, Christie bent his knee. In doing so, he rejected the very principles of his campaign that attracted our support," the editorial said.
And there you have it!
Basically, if you get right down to it, it's not even about Christie and the State Supreme Court judge so much as it is about this McQuaid fellow and HIS feelings regarding Donald Trump.
I have, more than once, crossed swords with a local newspaper publisher regarding issues that we seriously disagreed upon. Mostly the disagreement was because I was right, he was wrong, HE took a stand on the wrong, or losing side of an issue or two and he was a bit jealous when he found out that my blog had more readership than HIS newspaper.
Newspaper publishers can be petty, hard-assed and one way, but so can a certain highly opinionated and very Conservative blogger, but when you can out-gun a newspaper it tends to aggravate the publisher.
I just hope Chris Christie can get around SIX aggravated publishers and I hope the citizens of New Jersey rally behind him.