Half a million U.S.-born kids live in Mexico with deported parents, trying to assimilate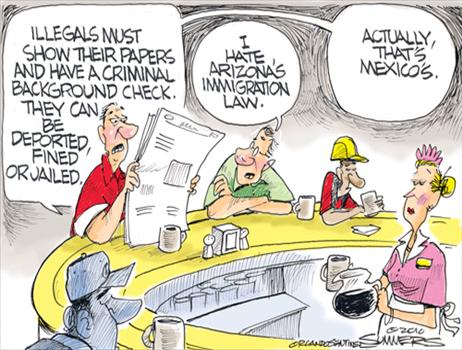 Mexico City – In the last seven years, approximately 4.2 million Mexicans have returned to their home country from the U.S. with an order of deportation, according to the Department of National Security.

Of these, official records show, one out of four ends up bringing the entire family back to Mexico — or at least part of it.

This explains why there are currently 498,000 U.S.-born minors living in Mexico, many of them Spanish illiterate and struggling to adapt to an entirely different school system.

"On average, only one in 10 Americans who have come back to Mexico makes it to college," said Guadalupe Chipole, director of the Center for Migrant Support, to Fox News Latino. "There is no coordinated system between U.S. and Mexican authorities to help them." SOURCE
Trying to assimilate? Assimilate to WHAT exactly? Schools and life in the home nation of their parents? 
Chipole, whose organization tracks all deported migrants who arrive in Mexico City on the three weekly flights chartered by the U.S. government, said that families are often torn apart over money and custody issues, and most kids are left in a very vulnerable situation.

"The biggest problem when they get to Mexico is that the society where they arrive in is not prepared to deal with these children," said Macrina Téllez, the aunt of four children who saw their family split after their father – her brother – was deported in August of 2015.
Mexican society isn't prepared to deal with these children?
Oh, but American society is supposed to welcome *anchor babies* with open arms, at least that seems to be the attitude held by many bleeding hearts on both sides of the border.
After 20 years living without papers in Chicago, Tellez found himself in Mexico with nothing more than the clothes he was wearing and without his wife and children.
Wait…20 years in the USA and he didn't have *papers*?
Now I know that some will disagree with me but quite frankly, I am WAY beyond caring about *agreement* where illegality is concerned.
This guy Tellez, and many more like him, are NOT immigrants, they are ILLEGALS and their plight, and that of their families, is on their heads, they came here illegally, made no effort to gain citizenship or, in this particular case, even a visa, yet we're supposed to care what happens to them.
But wait; the *bleeding heart* BS gets even better.
A few months later, around Christmas time, the two older children (ages 15 and 13) asked their mother to send them to their dad, who by then was settled in his native Guerrero; they said they missed him and wanted to live with him. Little did they know of the horrors they would go through in school, as they were able to speak some Spanish, but had never been formally schooled in the language. They did not know how to write in Spanish.

"The public school teachers [in Mexico] have no patience. They want them to write quickly and they abuse them," she said, adding that her nephew was yelled at more than once for writing slowly.

"They do not take into account that he is from the United States," said Tellez, who has become the teens' foster mom.
Mexican teachers abusing Mexican-American children in Mexico? Oh the horror!
All because these children have been raised by an ILLEGAL in the USA, they speak some Spanish, just a little I guess, but they go to Mexico to make a new life for themselves and find out that unlike the USA, Mexico actually wants you to speak the language of the land.
How dare they?
Some of the kids, however, are not even able to sign up for school because of a lack of proper documentation – a Mexican or a binational birth certificate is needed to enroll.
And can you even begin to imagine the gall it takes to demand proper documentation before being schooled in Mexico? We, as Americans, are expected to welcome ILLEGALS with open arms and wallets. I wonder if they have to have some proper documentation to get medical care or food?
Sure strikes me as strange that Mexico has stricter rules for immigrants than the USA does.
There's more to this story, it goes on to enlighten us about the USA working to help get proper documentation in order to satisfy Mexican regulations, I have stated this before but it bears repeating; maybe the USA needs to take a look at immigration laws in Mexico and apply the same, or similar laws right here in the USA.
So, stroke your own inner *bleeding heart* and call me a RACIST for this post and my own opinions regarding ILLEGALS, but before you do, show me, exactly, where ILLEGAL is a RACE. I always though ILLEGAL was an action, but go ahead, educate me.
I doubt that Trump will build a wall, but he should…