Killing Americans: On uncharted ground in attack
WASHINGTON (AP) – President Barack Obama steered the nation's war machine into uncharted territory Friday when a U.S. drone attacked a convoy in Yemen and killed two American citizens who had become central figures in al-Qaida.

It was believed to be the first instance in which a U.S. citizen was tracked and executed based on secret intelligence and the president's say-so. And it raised major questions about the limitations of presidential power.

Anwar al-Awlaki, the target of the U.S. drone attack, was one of the best-known al-Qaida figures after Osama bin Laden. American intelligence officials had linked him to two nearly catastrophic attacks on U.S.-bound planes, an airliner on Christmas 2009 and cargo planes last year. The second American killed in the drone attack, Samir Kahn, was the editor of Inspire, a slick online magazine aimed at al-Qaida sympathizers in the West.

"Al-Qaida and its affiliates will find no safe haven anywhere in the world," Obama said in announcing al-Awlaki's death. "Working with Yemen and our other allies and partners, we will be determined, we will be deliberate, we will be relentless, we will be resolute in our commitment to destroy terrorist networks that aim to kill Americans."

Full Story Here:
Killing Americans: On uncharted ground in attack
I have NEVER said this before, so take note, because I may never say it again, at this point in time, knowing what we know from all reports, Barack Hussein Obama did a GOOD thing with this action, I congratulate him and offer all respect due!
That said; I now wonder, is there an ulterior motive or was this done for the reasons stated and for the good of America? Or, is there an attempt being made to convince moderates and Conservatives that Obama really IS a leader? Because I have to tell you, it's not working, at least not for me.
There is an election coming soon and I am wondering if Obama is trying to convince us that he really does have a set of balls almost as big as Moochies…

Ulterior motives aside, this angers me greatly:
MANCHESTER NH — Ron Paul aggressively criticized President Obama today for al-Awlaki's death.

"No I don't think that's a good way to deal with our problems," Paul said in a media avail after his remarks at the Politics + Eggs event here. "He was born here, Al-Awlaki was born here, he is an American citizen. He was never tried or charged for any crimes. No one knows if he killed anybody. We know he might have been associated with the underwear bomber. But if the American people accept this blindly and casually that we now have an accepted practice of the president assassinating people who he thinks are bad guys, I think it's sad. SOURCE
Ron Paul is a damned COWARD, he is a total MORON and his supporters all need to be locked away in a camp in the woods, deep dark woods, in a place with HIGH walls, never to be seen or heard from again. Ever… (that oughta freak the Paultards out

)
I guess Ron Paul wouldn't have fit in well in the *Old West Days*, back in a time when it was common to see *WANTED: DEAD OR ALIVE* on a poster and a sum of money offered for the person highlighted on the poster. Ron Paul would have been a WUSS back then just like he is today, the big difference is; back then the little piss-ant would have been tarred and feathered and run out of town.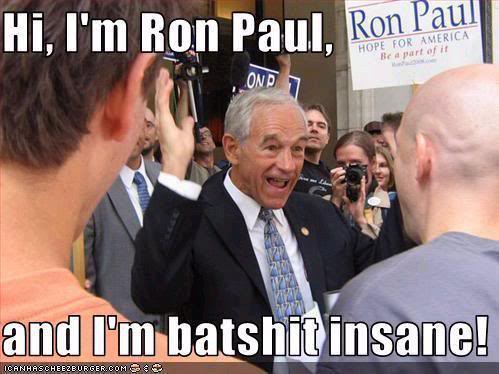 I have had the occasional DUMB-ASS ask me, "Fred, how can Texas elect such an idiot?" and I have to tell them, Ron Paul isn't the only idiot, people asking that question have no business engaging in political discussions.
Ron Paul was NOT elected by TEXAS, he was elected by a few folks from his Congressional district, Ron Paul does NOT represent TEXAS, he represents a very small portion of Texas and the media, as well as some commentators, haven't got the good sense to realize it.
Ron Paul is outraged by the deaths of Anwar al-Awlaki and Samir Kahn, because they are American born, and because he, Ron Paul, wanted them to be given a *fair trial*? Ron Paul is NOT the only one that is outraged at theses deaths; from Gary Johnson:
"Well I — as president of the United States I would have been a lot more transparent about that, and I understand all of the accusations against al-Awlaki and they are very significant, and I don't want to minimize at all the threat that he was posing to the United States. But he is a U.S. citizen, he was a U.S. citizen, and never before have we targeted a U.S. citizen for death," the former New Mexico governor said on Fox News. SOURCE
Ron Paul and Gary Johnson, 2 SPINELESS individuals that both want to lead this nation.
Let me ask this; how sad is it when people like Ron Paul and Gary Johnson are SO damned disgusting that they actually make Barack Hussein Obama look pretty good?
I realize Johnson is still referred to as *Gary WHO?* and isn't even remotely likely to get the GOP nomination, but for crying out loud, some folks actually believe Ron Paul should be POTUS.
I say this in ALL sincerity, I hope al-Awlaki and Kahn are enjoying their 72 virgins and I hope they ALL look like Helen Thomas.