Judge: Black church rightful owner of KKK store
COLUMBIA, S.C. (AP) – After a lengthy legal battle between a black South Carolina church and members of the Ku Klux Klan, a judge has ruled that the church owns a building where KKK robes and T-shirts are sold.

A circuit judge ruled last month that New Beginnings Baptist Church is the rightful owner of the building that houses the Redneck Shop, which operates a so-called Klan museum and sells Klan robes and T-shirts emblazoned with racial slurs. The judge ordered the shop's proprietor to pay the church's legal bills of more than $3,300.

Since 1996, the Redneck Shop has operated in an old movie theater in Laurens, a city about 70 miles northwest from Columbia that was named after 18th century slave trader Henry Laurens.

Ownership of the building was transferred in 1997 to the Rev. David Kennedy and his church, New Beginnings, by a Klansman fighting with others inside the hate group, according to court records. That man, according to Kennedy, was feuding with store proprietor John Howard over a woman and "developed a spiritual relationship" with Kennedy's church, the judge wrote.

Full Story Here:
Judge: Black church rightful owner of KKK store
Life sure does take some strange turns on occasion. What amazes me is the fact that the Klan still exists into the 21st century. The *old ways* die hard I suppose.
But a clause in the deed entitles Howard, formerly KKK grand dragon for the Carolinas, to operate his business in the building until he dies.
That is the very definition of ironic. 😛
Howard has defended his business in the past.

"If anything turns people off, they shouldn't come in here," Howard told The Associated Press in 2008. "It's not a thing in here that's against the law."

The Redneck Shop has been the target of protests and attacks from the start. A few days after it opened, a Columbia man crashed his van through the front windows and was charged with malicious damage to property. High profile black activists have staged several protests outside the store, and Kennedy has regularly picketed there as well.
Well, hate works both ways, and I KNOW that the Klan has tried to clean up their image in recent years, they have attempted to get into the mainstream political world and to gain acceptance as *normal* folks.  Anyone remember David Duke?
David Ernest Duke (born July 1, 1950) is a former Grand Wizard of the Knights of the Ku Klux Klan an American activist and writer, and former Republican Louisiana State Representative. He was also a former candidate in the Republican presidential primaries in 1992, and in the Democratic presidential primaries in 1988. Duke has unsuccessfully run for the Louisiana State Senate, U.S. Senate, U.S. House of Representatives, and Governor of Louisiana. SOURCE
Duke has tried for years to take the Klan *mainstream* and give them some type of relevance in todays political climate. He supports Ron Paul, and that speaks volumes, he has personally run for office on a number of occasions, but SANE people don't want a guy that was/is a Klan leader in a seat of REAL power.
I don't have ANY use for the Klan or its beliefs, I have very personal reasons for those feelings, and I am not going to expound on them. That said;Â as much as the Klan promotes its brand of hate, so do the Black Panthers and the NAACP.
Kennedy has a long history of fighting racial injustice. He protested when a South Carolina county refused to observe the Martin Luther King Jr. holiday, and he helped lobby to remove the Confederate flag from the Statehouse dome.
Some folks find this image to be offensive. Apparently Mr. Kennedy is one of those people.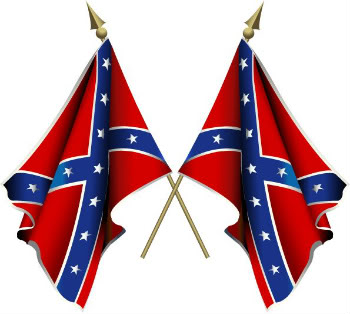 Personally, I find this image to be offensive, Black Panthers engaged in intimidation.
Offensive imagery?
It's all in the eye of the beholder I suppose. No one involved in this has *clean hands*, to paraphrase, 'he that is without sin among you, let him cast the first stone.'