Texans on wrong side of border fence grow anxious
BROWNSVILLE, Texas (AP) – Max Pons is already anticipating the anxiety he'll feel when the heavy steel gate shuts behind him, leaving his home isolated on a strip of land between America's border fence and the violence raging across the Rio Grande in Mexico.

For the past year, the manager of a sprawling preserve on the southern tip of Texas has been comforted by a gap in the rust-colored fence that gave him a quick escape route north in case of emergency. Now the U.S. government is installing the first gates to fill in this part of the fence along the Southwest border, and Pons admits he's pondering drastic scenarios.

"I think in my head I'm going to feel trapped," said Pons, who lives on the 1,000-acre property of sabal palms, oxbow lakes and citrus groves he manages for the Nature Conservancy's Southmost Preserve. "I need to have something that is much easier for me to have to ram to get through" if necessary.

Pons' concerns illustrate one of the complications in the government's 5-year-old effort to build a secure barrier along the border that would keep out illegal activity from Mexico without causing worse problems for the people living in the region.

Full Story Here:
Texans on wrong side of border fence grow anxious
I have said many times, we must secure the border between the USA and Mexico, but a fence, a wall, a parapet of ANY description, will not secure our border.
If you build a wall 30 feet high, you only inspire ladder builders to make more 32 foot ladders. And in many areas, you don't need a ladder, you just need youthful exuberance.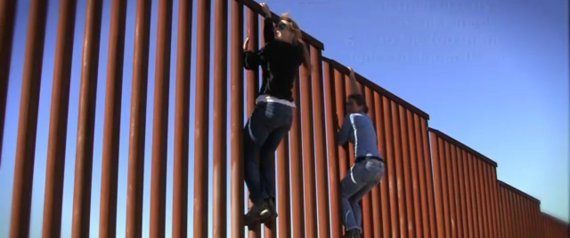 That is not a cheap fence either; it's not one meant only to mark a border, it is, supposedly, a fence made to keep ILLEGALS out of the USA. Apparently, it isn't getting the job done.
A while back a group called The Minutemen made the news with their efforts to seal the border by providing boots on the ground and by building fencing.
The Minutemen fell apart due to political discourse within their organization, and at about that same time, the fences they built were torn down by ILLEGALS making the crossing into the USA.
A fence might be a good way to corral horses or cows, but it just doesn't do a lot to deter a human being that has decided to cross that fence. In many cases, a simple barbed wire fence doesn't do a lot to stop or hold back determined livestock.
What you see in the picture below is what the Minutemen put up; a simple 5 strand barbed wire fence on T-posts, and I am sure the Minutemen were sincere in their efforts, but that nice looking fence was in the dirt as soon as the Minutemen left the area.
If you ever worked cows or horses, you know exactly what I am talking about.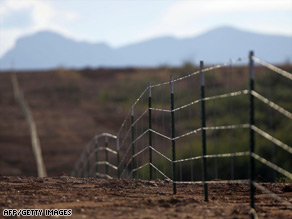 A fence, much like a lock, only keeps an honest person honest. It does little to stop anyone that has decided to break it or by-pass it.
Picture this in your mind; high walls, tall fences, barbed wire, razor wire, video surveillance, guards on duty 24/7/365, armed guards on the walls or in the towers. That is a pretty secure scenario, right? That is the description of a prison and it's security.
Why then, do we hear about prison breaks from time to time?
There is no way to secure our southern border completely, no security system is going to be 100% effective, but it is a certainty, a border fence will NOT achieve the desired result on it's own. A fence can be cut, knocked down, climbed over, tunneled under and thus, it becomes an exercise in futility.
There is only one way we can secure our border with Mexico, and even that won't be 100% secure, but fences, in conjunction with aerial surveillance (drones), manned surveillance and ground sensors, and a manned force large enough to effectively respond to a border that is 1969 miles long is the only hope we have.
Personally, I don't see ANY American President having the courage to make that happen, but I would support a candidate that made the securing of our border a huge campaign issue.
And I would be the 1st one to hold his feet to the fire if he made that promise and then went back on it.