Obama voices his support for gay marriage
WASHINGTON (AP) – President Barack Obama declared unequivocal support for gay marriage on Wednesday, becoming the first president to endorse the politically explosive idea and injecting a polarizing issue into the 2012 race for the White House.

Obama's announcement, after refusing to take a clear stand for months, cheered gay rights groups who have long urged him to support gay marriage. It also opened up a distinct area of disagreement with Republican presidential candidate Mitt Romney, who opposes gay marriage.

Polling suggests the nation is evenly divided on the issue

"I have hesitated on gay marriage in part because I thought that civil unions would be sufficient," Obama said in an interview with ABC at the White House. He added that, "I was sensitive to the fact that for a lot of people the word 'marriage' was something that invokes very powerful traditions, religious beliefs and so forth."

Full Story Here:
Obama voices his support for gay marriage
So, Barack Hussein Obama and John Kerry actually DO have some commonality. It seems they both like *flip-flops*. "I was for it/against it before I was against it/for it", something like that. Obama may have just cost himself an election!

I have to thank my good friend Rob at American and Proud for this graphic! Unicorn farts and rainbows. Barack the Rainbow Warrior! The only thing lacking is Fairy Dust. Uh, wait…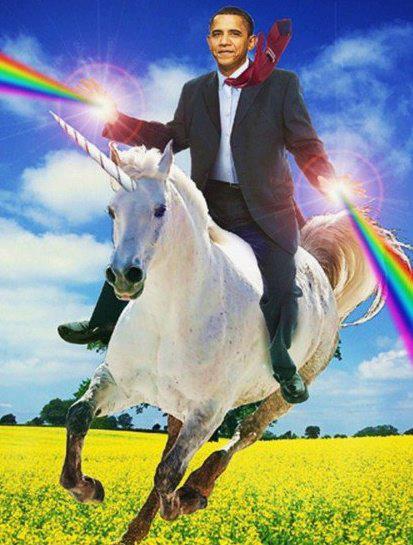 I wonder what was on his mind when this was the story about 4 years ago?
Obama Says He Is Against Same-Sex Marriage
ABC News' Teddy Davis, Sunlen Miller, Tahman Bradley, and Rigel Anderson report: Barack Obama's nuanced position on same-sex marriage is on full display in an MTV interview which is set to air on Monday.

Obama told MTV he believes marriage is "between a man and a woman" and that he is "not in favor of gay marriage."

Full Story Here:
Obama Says He Is Against Same-Sex Marriage
Well, now we get to see if Black Evangelical voters are going to vote for what's RIGHT or are they going to vote for what's Black.
This is a TEST for the religious Black community, and it has always been my observation that MANY Black folks are VERY religious, so, will they follow The Messiah or will they make hypocrites of themselves and follow the Obamessiah?