Racial Tensions Flare Anew in a Texas Town
JASPER, Tex. — For more than 100 years, a rickety iron fence separated the black graves from the white ones at a cemetery in this East Texas town. Months after the brutal murder here of James Byrd Jr., a black man chained to a pickup truck and dragged to death by three white men on June 7, 1998, the fence was torn down by residents as a sign of unity and reconciliation.

Fourteen years later, Jasper City Cemetery remains segregated: blacks, including Mr. Byrd, are buried near the bottom of the hill, while whites are buried at the top.

"It's our custom, here in the South, here in Jasper," said Albert K. Snell, 80, a retired teacher who is white and a member of the cemetery's board of directors. "We have the same cemetery, but we don't mix the white and the black graves. They're separate. Put a black up here? No, no, we wouldn't do that. That would be against our custom, against our way of doing things."

In recent months, the perpetual, uncomfortable truce between the races in this piney woods town of 7,600 has ruptured, and the feuding has become increasingly public.

Full Story Here:
In Jasper, Texas, Racial Tensions Flare Again
Well, maybe I'm not as big a *RACIST* as some loons on the left are accusing me of being. Once I am DEAD, I don't give a damn WHAT they do with my carcass.
Bury it, cremate it, dump it in the ocean and call it a *burial at sea*, leave it out in the desert, critters gotta eat too, but being buried next to, or among BLACK folks, just isn't a big concern for me.
I don't really care one way or the other, they are HIS words and beliefs, not mine, but HIS words make me wonder, where does Albert K. Snell get his sheets laundered? Yes, THOSE sheets!
You just have to know, there is ALWAYS a lot more to these stories than meets the eye;
At the center of the controversy this time is not a vicious crime, but a bitterly fought political feud over the hiring and firing of Jasper's first black police chief, Rodney Pearson. Mr. Pearson says he is preparing to sue. The Texas N.A.A.C.P. has asked the federal government to investigate. And former and current white officers who worked under Mr. Pearson have filed federal complaints of their own alleging racial discrimination.

The battle dates from last year, when the majority-black, five-member City Council voted to appoint Mr. Pearson, first as the interim and then the permanent chief.

Mr. Pearson had been a longtime state trooper in the area and was a former Jasper volunteer fire chief. But Mr. Pearson's selection was opposed by a number of white residents, who believed the council passed over more qualified candidates, including Gerald Hall, a white police captain at the time and a veteran of the department.
The NAACP can ask for all the investigations they want, all they are going to get is an investigation from the Obama administrations Department of IN-Justice.
This is Jasper, Texas folks. Racism has run rampant in Jasper for more years than I am old, it's rooted deep into the fabric of that part of Texas and NO investigation is going to change it or make it go away. If it's not WHITES espousing racism towards BLACKS, it will be BLACKS espousing racism against WHITES. It's that simple.
A group calling itself the League of Concerned Citizens circulated petitions to recall three of the four black council members who voted to hire Mr. Pearson, accusing them of "incompetence, misconduct and malfeasance in office." Hundreds of people signed the petitions, and it appeared that all of them were white, according to a ruling in a lawsuit filed in connection with the recall effort.

Two of the council members were recalled in November. When the new City Council was elected in May, it became a 4-to-1 white majority. This month, one of the council's first acts was to vote, 4 to 1, to fire Mr. Pearson at a public meeting after council members and Mayor Mike Lout, who is white, questioned him about his handling of the department. Alton Scott, the black councilman, opposed the move.
Wait for it … wait for it … wait … wait…..
"The whole thing is racist," Mr. Scott said of Mr. Pearson's firing. "It's based on race. It has nothing to do with qualifications."
There it is: THE RACE CARD! You knew it was coming didn't you? Well, there's MORE.
White residents opposed to Mr. Pearson said their concerns had never been about race, but about his failure in his employment application to disclose bad checks he had written, including one that led to a 1990 misdemeanor arrest. They said Mr. Pearson and his supporters had unfairly labeled criticism of him as racist, and that Jasper — 45 percent white and 44 percent black, according to the 2010 census — had had a long history of black leadership, including R. C. Horn, the mayor at the time of Mr. Byrd's murder.
As with criticism of Barack Hussein Obama, any time a WHITE persons criticizes a BLACK person, it has nothing to do with FACTS, FIGURES or ACTIONS, the criticism is only made because the WHITE person is a RACIST!
It doesn't matter what the action, deed or words were that drew the criticism, the criticism is only leveled because the person is BLACK.
Three white council members — Mitch McMillon, Randy Sayers and Raymond Hopson — said their votes to fire Mr. Pearson stemmed from what they saw as his lackluster performance as police chief, and that firing him had nothing to do with race, though Mr. McMillon said he believed the decision to hire him did.

"The chief of police needs to be someone of impeccable character, to demand the respect of his employees and officers and really the town," said Mr. McMillon, who runs a senior center in town and who won a seat vacated by a recalled black council member. "Mr. Pearson didn't have that. The decision to hire Rodney was based solely on the color of his skin. That was a racially motivated decision. And I think our town reacted appropriately. They were recalled as a result of that."
"The chief of police needs to be someone of impeccable character, to demand the respect of his employees and officers and really the town,", and that is the truth of the matter, but because a thought to be *less than desirable* Police Chief, or Council members, just happened to be Black, OH. MY. GOD., it was racist to say so.
In one way, the dispute over Mr. Pearson's hiring was a small-town political power struggle. Mayor Lout wanted Mr. Hall, the police captain, to be named police chief, but the majority-black council rejected the mayor's recommendation and selected Mr. Pearson. When Mr. Pearson became chief, he demoted Mr. Hall to sergeant and brought in a new captain, angering the mayor.
By now you're probably wonder just WHAT any of this has to do with the cemetery, I know I am.
Well, the story actually gets around to mentioning the cemetery a bit further down the page, you can read it if you like, but I found what I believe to be the crux of the matter concerning Rodney Pearson, and the reason he is REALLY opposed by the people of Jasper, Texas.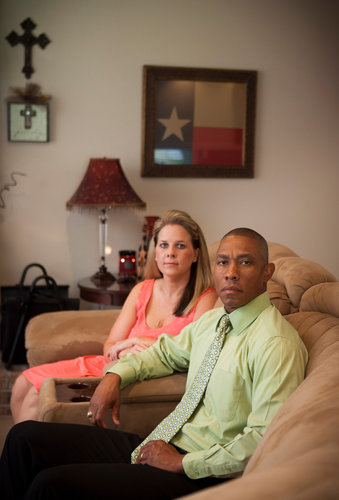 Rodney Pearson and wife Sandy Pearson
It's Jasper, it's racist, always has been, always will be.