This is Islam, the so-called *Religion of Peace*
"Kill the unbelievers wherever you find them." Koran 2:191
"Make war on the infidels living in your neighborhood." Koran 9:123
"When opportunity arises, kill the infidels wherever you catch them." Koran 9:5
"Any religion other than Islam is not acceptable." Koran 3:85
"The Jews and the Christians are perverts; fight them."… Koran 9:30
"Maim and crucify the infidels if they criticize Islam" Koran 5:33
"Punish the unbelievers with garments of fire, hooked iron rods, boiling water; melt their skin and bellies." Koran 22:19
"The unbelievers are stupid; urge the Muslims to fight them." Koran 8:65
"Muslims must not take the infidels as friends." Koran 3:28
"Terrorize and behead those who believe in scriptures other than the Qur'an." Koran 8:12
"Muslims must muster all weapons to terrorize the infidels." Koran 8:60
THIS IS A FOLLOWER OF ISLAM!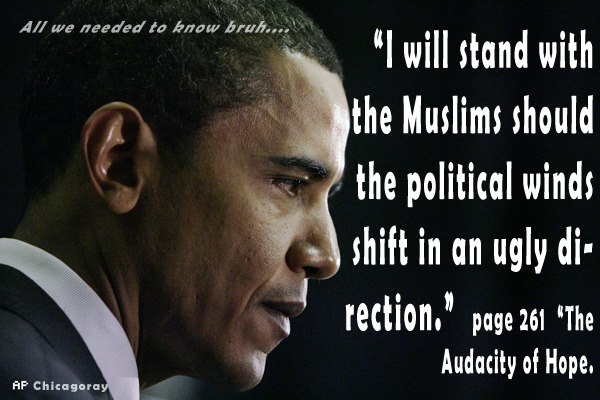 OBAMA FLASHBACK: The Day I'm Inaugurated Muslim Hostility Will Ease
Then-Senator Barack Obama makes the case for an Obama Presidency on November 21, 2007 by saying he is uniquely qualified to bring stability to America's relationships in the Muslim world because he lived in an Islamic country during his youth and his half-sister is Muslim.
Barack Hussein Obama is THE biggest failure this nation has ever seen. He IS a Muslim, at least a strong supporter of Islam, if not an actual *closet participant*.
Many very good and reliable political bloggers tried to point this out and make a major issue of it BEFORE Obama was elected the 1st time.
Are you listening THIS time?