I wonder if THIS post will Offend the Muslims?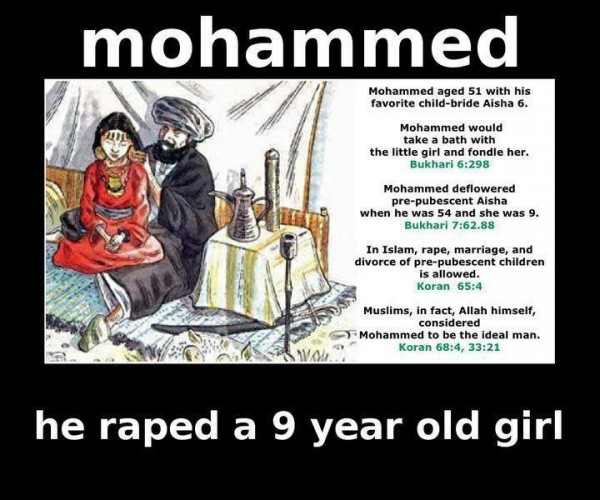 Jewish criticism

In the Middle Ages, it was common for Jewish writers to describe Muhammad as ha-meshuggah ("The Madman"), a term of contempt frequently used in the Bible for those who believe themselves to be prophets.

Christian criticism

Martin Luther

Martin Luther referred to Muhammad as "a devil and first-born child of Satan". SOURCE
I am not a *religious writer*, I don't claim to be an expert on any of this, but I read a lot and I listen when learned speakers pronounce Mohammed, Muhammed, MoMo from the 'hood, whatever his name is, I listen when they tell tales of him being a PEDOPHILE!
Those that follow Islam will *spin* the story, they will tell you that 'times were different back then', and they will tell you that by the laws of Islam it was an accepted practice, one that was approved and encouraged by Allah. I'm guessing it went something like this: 'Hey, it's OK, Allah said it was OK, and just look at her, you KNOW she wants me…'
How much more convenient can it be? Allah said it was OK…
Perverts then were pretty similar to perverts now; they had a bag full of *ready excuses*.
EDIT TO ADD: 2013-05-05 @ 13:21:21
This is an email I just received, as you can guess, I told him exactly what I thought of HIM, MoMo and ALL Muslims everywhere…
Elaf Abdulaziz < elafabdulaziz@gmail.com >

Hi
About this article Jewish criticism

I want to till you something
you said by your own words (I am not a *religious writer)
Ok who you are write about prophet Mohammed and his religion
Who give you the rights to write about him
Writing is a thing and judging about some one without prove is another thing
How you claim that prophet Mohammed is a pedophile
You said I winder if this offensive for Muslim I want to answer yes it is
Please try to think about your religion before writing about other religion

Elaf abdulaziz al-matrouk
5th year medical student
Elaf, I hope you're studying ENGLISH as a part of your *medical* training, otherwise, you're going to get folks killed with your understanding of the language, your atrocious spelling, diction and grammar.. I notice that you didn't recognize a TITLE but did pick up on Jewish criticism…
And to MY readers; I offended Elaf, my job is done with this post. 😈