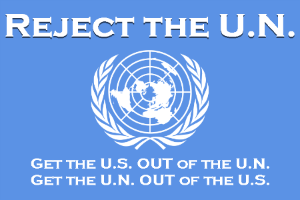 Texas Attorney General warns United Nations election observers could be arrested
Texas Attorney General Greg Abbott warned observers with the United Nations-affiliated group Organization for Security and Cooperation in Europe (OSCE) to stay away from polling places in Texas on Election Day or face arrest, the Huffington Post reported Wednesday.

In a letter sent Tuesday to Ambassador Daan Everts, Abbot said that "groups and individuals from outside the United States are not allowed to influence or interfere with the election process in Texas."

"All persons," he said, "including persons connected with OSCE—are required to comply with these laws."

"It may be a criminal offense for OSCE's representatives to maintain a presence within 100 feet of a polling place's entrance. Failure to comply with these requirements could subject the OSCE's representatives to criminal prosecution for violating state law," he added.

On Saturday, we reported that the OSCE intended to monitor the activities of conservative groups who are concerned with the potential of voter fraud.

Full Story Here:
Texas Attorney General warns United Nations election observers could be arrested
Let me make MY position on this CRYSTAL CLEAR for anyone that doesn't already know, I have NO USE for the United Nations, any group affiliated WITH the United Nations or any person that is associated with the United Nations in any way, shape form or fashion!
Ambassador Janez Lenarčič, director of the OSCE Office for Democratic Institutions and Human Rights (ODIHR), wrote Secretary of State Clinton, calling Abbot's warning "unacceptable."

"The threat of criminal sanctions against OSCE/ODIHR observers is unacceptable," he said. "The United States, like all countries in the OSCE, has an obligation to invite ODIHR observers to observe its elections."
Pay attention here Janez, this is TEXAS, we don't have a hell of a lot of use for what comes out of Washington, D.C. and the United Nations, and we damn sure don't have any love for YOU and your Organization for Security and Cooperation in Europe.
This isn't Europe and there are folks here in Texas that will go to WAR to make sure Texas never becomes Europe. And we'll fight to the death to make sure it never happens!
You see, in YOUR European opinion, supposedly, we have an obligation to invite ODIHR observers to observe OUR elections.
Maybe Hillary Clinton invited you scumbags, I don't know that for a fact, but what I DO know is this; TEXAS didn't invite you, we don't want you, we don't need you and you would be well advised to keep your United Nations loving, European COMMIE asses OUT of Texas.
Maybe someone didn't tell you, but Texas was a Free Republic, Texas won it's right to independence by defeating Mexico in the war for Texas freedom in the year of our Lord 1836.
A bunch of rag-tag Texas PATRIOTS stood against the Army of Mexico and we took them apart.
It's been a while since Texas had to repel foreign invaders, you see, the U.S. government doesn't see the invasion coming across our border with Mexico as an invasion, the U.S. government sees it as undocumented immigration.
Most REAL Texans see it for what it is; an invasion by foreign powers. We're not going to be terribly nice if those invaders are European and from the United Nations.
That's NOT a threat Janez, it IS a warning, and they say a word to the wise is sufficient.