What can Unions do for YOU? Well, here's a story that may or may not be 100% accurate but knowing how Unions, and the THUGS that run the Unions work, I would not be surprised if it's not true!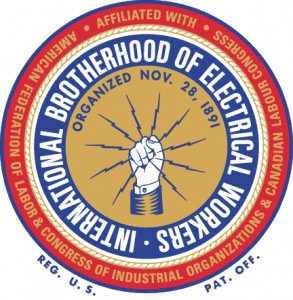 Non-Union Utility Crews from Alabama Turned Away From Helping NJ Sandy Victims: Report
Volunteer crews who came to help restore power were allegedly told to leave because they are not union workers, according to a report.
Several utility crews from Alabama who arrived in New Jersey to help restore power following Hurricane Sandy were allegedly told to leave because they are not union workers, according to a Huntsville news station.

WAFF.com reports crews with Hunstville Utilities and Joe Wheeler Electrical Membership Cooperative made their way to Seaside Heights, New Jersey this week to help get power back on for thousands of residents left in the dark. But the groups were told by crews in New Jersey that they cannot do any work because they are non-union employees, according to the report.

Derrick Moore, one of the Decatur workers, told the station he and his crewmates will instead head to Long Island, NY to help get power on back there.

New Jersey Governor Chris Christie'Äôs office is denying the report saying it is "likely confusion about needing the crew at that particular location" and had "nothing to do with being union or non-union workers."

A representative for the two utility companies also said the story is untrue, according to the Huntsville Times.

Seaside Heights suffered an estimated $1 billion dollars in damages from Hurricane Sandy. Many are expected to be without power for the next few days.

As of Friday, more than 677,977 people in our area are still without power.

Story Here: SOURCE
You can decide for yourself, but these workers went to HELP people, not have a battle with a bunch of Union supporting SLUGS!