Gun laws show difficulty of stemming violent acts
WASHINGTON (AP) – One early focus of new gun regulations by President Barack Obama and some lawmakers would reinstate a federal ban on assault weapons, a law widely regarded as imperfect.

The ban, which existed for 10 years until 2004, would have made it illegal for the young gunman in Connecticut to buy the type of 30-round magazines that allowed him to shoot so many elementary school students before he reloaded. But the ban and other U.S. gun laws wouldn't have prevented his mother's purchase of the powerful assault rifle or the especially deadly ammunition that he used to kill 26 people.

A generation of U.S. gun laws – and the inherent compromises intended to balance constitutional gun rights and public safety – reflects the intricacies of applying government policy to stem acts of mass violence.

Since July, there have been at least four mass shootings that killed 47 people and wounded dozens more in Connecticut, Colorado, Oregon and Wisconsin. The killing of 20 children and six adults in a Newtown, Conn., elementary school appears to be a tipping point that pushed Congress and the White House toward tackling new gun laws.

Full Story Here: Gun laws show difficulty of stemming violent acts
Let me be VERY blunt; Libbers, Progressives, the anti-gun cabal, Barack Obama and his entire regime have NO idea what it will take to curb such acts as the recent school and theater shootings. The LEFT, and sadly, of late many on the RIGHT seem to think that gun violence can be legislated into nonexistence.
They are woefully wrong!
All the anti-gun legislation in the world won't stop gun violence, not fully. Confiscation of all or as many gun as possible will NOT stop gun violence but it will leave innocent Americans open to those that don't obey ANY laws.
You see, therein lies the problem; criminals don't give a DAMN what kind of laws the Senate and Congress pass. They don't care about state or local laws and any additional guns laws will just be more laws for them to ignore.
To any that doubt those statements, ask yourself this and answer in ALL honesty; has the War on Drugs worked?
The Progressives are stupid enough to believe that the passing of a law will stop the gun violence and put gun companies out of business.
Cocaine, heroin and many other drugs are illegal under State and Federal law, all those laws have done is drive up the street price of illicit drugs and make RICH men of those that engage in the drug trade.
The very same is exactly what would happen if guns were completely outlawed in the United States; the supplies dry up for a brief period of time and then the black market kicks in, guns are back on the street, ammo and high capacity magazines are back on the street and the beat goes on.
So, for the sake of argument, lets say that Obama and Company DID actually try to take ALL guns out of the hands of American citizens, and by doing so assumed that terrorist attacks and mass murders would now become a thing of the past because ALL of those nasty old guns were gone.
Do you remember Oklahoma City?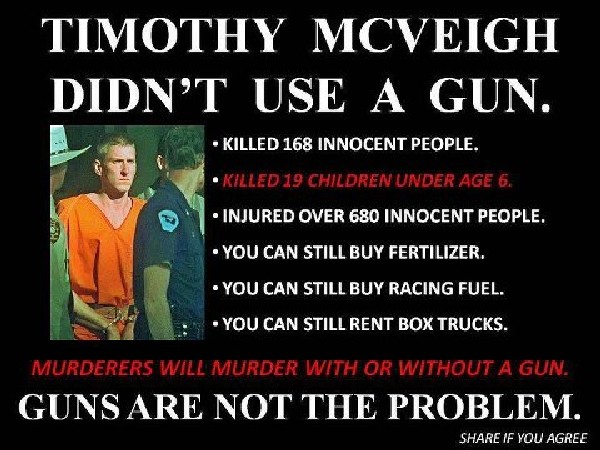 One other thing; I fully expect the NRA (National Rifle Association) will cave to Obama, Biden and the Democrats in this battle. If they do I am done with the NRA.