A message from U.S. Senator Ted Cruz (R-TX)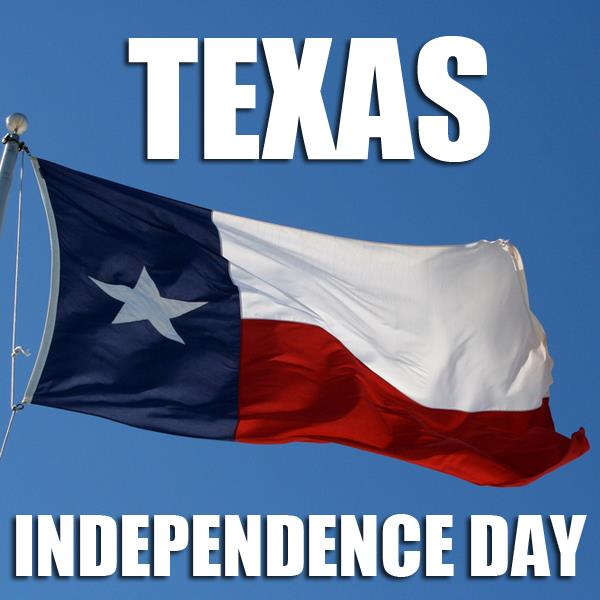 While battle raged at the Alamo 177 years ago, a free Republic was born when delegates from across Texas met to declare their independence from a Mexican government that had "ceased to protect the lives, liberty, and property of the people, from whom its legitimate powers are derived."

The men who declared Texas Independence knew with every fiber of their being what the price of liberty was, and that same appreciation of liberty still guides the Lone Star State today. We owe it to those who sacrificed it all to fight back whenever freedom is threatened.

I hope you have a happy Texas Independence Day, remember the brave Texians who laid it all on the line, and always stand for liberty.
To ALL of my Texas friends and neighbors, Native Texans, Texans by choice, those of us that LOVE Texas and the freedom that Texas stands for; Happy Independence Day!
Not all of us were blessed by being born in Texas, many Texans came from other places, I am one of them. I was born in Shreveport, but that's about as close to Texas as you can get and not really be IN Texas.
Even so, I got here as fast as I could; my folks moved to Odessa, TX when I was 6 months old and the pattern was set. I have lived in Texas most of my life and I doubt that I will ever leave Texas, not alive anyway.
I am sure that causes great pain for a few Libtards that are terribly out of place in this wonderful state called Texas, especially one that recently told me that Texas didn't need angry Republican people like me with all of my Conservative ways and went on to say that I should LEAVE Texas and go back to Louisiana. By the way, I am NOT a registered Republican, I am, and always will be an Independent Conservative, just sayin'.
You see, that person has vowed that they and their fellow Libtards are going to turn Texas into a *BLUE* state in 2016. I don't think they want ME in the fight.

In response to their pathetic plea for me to leave Texas I will say this; NOT GONNA HAPPEN.
Regarding the belief that the Libbers will turn Texas *BLUE* in 2016, I will say, as have many other Texans,"Over my dead body", and this bears remembering; we haven't played Cowboys and Libtards yet!
Texas, Conservative and Freedom loving, the best combination on earth.
People fought and died to free Texas from Mexico, many of them were adopted Texans, but they fought and died for Texas and its freedom, and we'll do it again.
And for all of you True Texans that weren't BORN here but are here because you want to be, and are dedicated to Texas Freedom, I offer you this: