Tornadoes level homes in Okla., 1 dead
SHAWNEE, Okla. (AP) – Tornadoes ravaged portions of central Oklahoma on Sunday, reducing portions of a mobile home park to rubble and killing a 79-year-old man whose body was found out in the open.

"You can see where there's absolutely nothing, then there are places where you have mobile home frames on top of each other, debris piled up," Pottawatomie County Sheriff Mike Booth said after surviving damage in the Steelman Estates Mobile Home Park. "It looks like there's been heavy equipment in there on a demolition tour.

"It's pretty bad. It's pretty much wiped out," he said.

The Shawnee tornado was one of several that touched down in the nation's midsection Sunday. Twisters, hail and high winds also struck Iowa and Kansas as part of a massive, northeastward-moving storm system that stretched from Texas to Minnesota.

Full Story Here:
Tornadoes level homes in Okla., 1 dead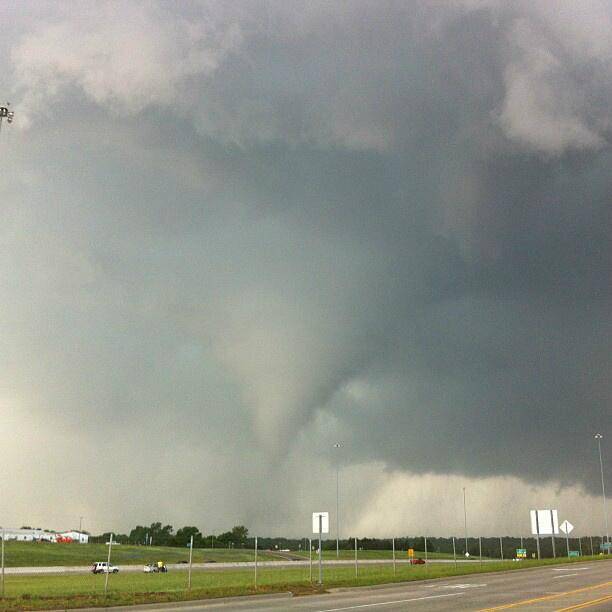 There is an old joke about what does a divorce in Oklahoma and a tornado have in common, the *punch line* was, someone is gonna lose a house trailer. Well my friends, this time it is NO joke. A mobile home, of ANY kind, is THE most dangerous place a person can be during a high wind event. In a tornado they can be a death sentence.
Tornadic winds can destroy most ANY structure, be it brick and mortar on a concrete slab, a wooden frame house, steel buildings on a slab, no matter what, tornadoes tear things into tiny pieces, literally ripping them apart with fierce winds and explosive decompression.
When I was a youngster we lived in Oklahoma City for a while, from about 1961 until my folks retired and went back to Louisiana in 1968. Tornadoes scared my poor Mother more than anything I had ever seen, before or since, and she gave my Father an ultimatum: you either have a tornado shelter built for me and the kids or we'll be going back to Louisiana as soon as possible.
She was quite serious too! Of course Louisiana had a few tornadoes but nothing compared to what was seen in Oklahoma.
This was back in the days of the oil boom in what was called The Anadarko Basin and I have to tell you, my folks were able to afford some really decent housing and we were lucky to have lived in OKC where housing was abundant. Much as today, some folks lived in mobile homes and for some reason it always seemed that Oklahoma tornadoes took dead aim on trailer parks, now called mobile home parks.
I would venture to say that mathematically there is no more of a chance that a mobile home park will be hit and wiped out as there is a subdivision of constructed homes, but it sure seemed like the tornadoes didn't know that.
We had a BIG hit here in Texas 2 nights ago and some big, fancy and supposedly well built homes were totally flattened, that's the destructive force of a tornado, and if the National Weather Service is correct, Texas and Oklahoma are NOT done with this current round of tornadoes and storms yet.
My most sincere sympathies to our neighbors in Oklahoma for their losses on Sunday, but I fear we're going to see even more destruction over the next few days.
And to be honest with you, we're well aware of the probabilities, Texas and Oklahoma have long been a part of what is called *Tornado Alley*, but that *alley* seems to be getting a lot bigger lately.
Hang on to your hats friends and neighbors, have a *safe spot* to go to in the event of a tornado, below ground is best but an interior room, especially a bathroom gives you a lot more safety than any other room in the home. Know what to do and how to survive.
Good luck and Godspeed.