GOP ponders how to capitalize on Obama's woes
WASHINGTON (AP) - The scandals dogging President Barack Obama are a political gift to Republicans, who could use some good luck after recent election losses. It's not clear, however, how Republicans can best capitalize on Democrats' woes, legislatively or politically.

Last November's election dynamics complicate the picture on both fronts. Republican leaders are urging a bit of restraint in exploiting the White House's new weaknesses.

Legislatively one of Obama's biggest second-term goals is to overhaul the nation's immigration laws, including a new pathway to citizenship for millions of people living here illegally. Many Republicans would like to deny him such a legacy-enhancing prize.

But GOP strategists say their party may need "immigration reform" more than Democrats do. SOURCE
Here is ALL the GOP needs to defeat Barack Hussein Obama and to remove him and his anti-American regime from office: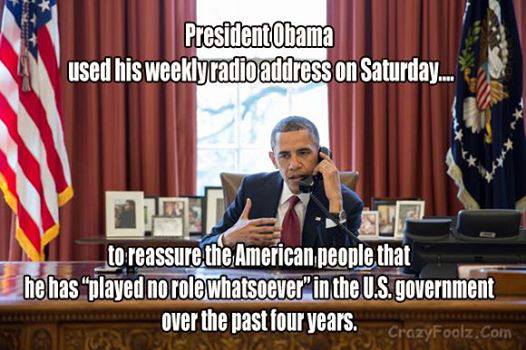 The GOP is pondering how to capitalize on Obama's woes? Seriously?
Let's see, how about this, blast Obama and his regime with a healthy dose of the truth and reality; that should be first and foremost. TRUTH burns Obama much like the old tale of Holy Water and a Vampire.
The best way to exploit the weakness of Obama and his regime is to use everything they do and/or say against them, everything. Leave no stone unturned and don't overlook any words or actions that come from Obama or his stooges.
Many Conservative pundits and bloggers have pointed out repeatedly; the GOP has a long-standing propensity for snatching DEFEAT from the jaws of VICTORY, and yes, I do know it's supposed to be the other way around, but does the GOP know that?
If this headline is accurate, if this story is credible, 'Stand Down': U.S. Had Two Drones, AC-130 Gunship, and Targets Painted in Benghazi, that one story should be ALL the GOP needs to remove the most incompetent and irresponsible President the USA has ever been forced to endure.
Many say that they believe Obama is very competent and that he knows exactly what he is doing, and that it's all designed to destroy the American people. I disagree with that.
I believe that Barack Hussein Obama is a willing *tool* of the Communists, Socialists, the followers of Alinsky, Ayers, Chomsky and Soros.
I believe that Barack Hussein Obama wakes up in a NEW WORLD every morning and I also believe that he hits his knees, in secret, and bows his head to the floor on his prayer rug, his Islamic prayer rug.
I also believe that if the GOP doesn't use everything that Obama and Company have given them that this nation will not be America when Barack Obama's reign of crime and treason is over.