Holder wades deeper into Zimmerman battle, calls for review of 'stand-your-ground'
Attorney General Eric Holder waded deeper into the controversy over the George Zimmerman case and verdict on Tuesday, suggesting a national review of "stand-your-ground" laws during a speech before the annual NAACP convention in Orlando.

The NAACP is at the forefront of the effort to pressure the Justice Department to bring federal civil rights charges against Zimmerman. Holder confirmed on Monday that his department is reviewing that possibility, citing his personal concerns about the case.

He went a step further on Tuesday, weighing in for the first time on controversial state-level laws on self-defense.

"Separate and apart from the case that has drawn the nation's attention, it's time to question laws that senselessly expand the concept of self-defense and sow dangerous conflict in our neighborhoods," Holder said. Fox News
OK, I am going to type this as SLOWLY as I can, that way the anti-gun, Obama loving MORONS that DO read here will be able to understand and get the full impact of my post and its intent.
Eric Holder; you are the dumbest SOB to EVER hold a position of power in the United States government.
You are a racist, you are a miscreant, you are wrong on every topic that comes before you and your highly incompetent Department of (In)Justice. You are a criminal, you should be removed from office as soon as possible. You are complicit in any number of MURDERS you hypocritical SOB and you should be prosecuted to the fullest extent of the law.
Fast and Furious ring any bells for you Holder?
You, Eric Holder, and your RACIST Master, Barack Hussein Obama, have done more to antagonize and inflame the racial passions of this nation than have Je$$ie Jack$on and Al $harpton combined.
You may be able to incite the ignorant Blacks that you were pandering to at the NAACP convention, but here is another flash for you Holder, the NAACP, the National Association for the Advancement of COLORED People is as racist an organization as it gets, well, if you don't count the New Black Panthers Party that is.
The NAACP and NBPP is the Black version of the Ku Klux Klan. I did NOT stutter when I typed that Holder. The NAACP and NBPP are as much anti-White as the Klan was anti-Black and anti-Semitic.
That statement is the TRUTH, even if Libbers, Black Activists, Socialists like Obama and Communists deny it, IT IS THE TRUTH.
Once upon a time the Klan was prosecuted by the DoJ, they were infiltrated, they were placed on trial for *civil rights* violations and they were subjected to investigations by the House Un-American Activities Committee. The Klan was labeled as a terror group and called Un-American because of their actions, but YOU Eric Holder, refused to look into the ILLEGAL activities of the New Black Panthers Party. You refused to indict their members on charges of VOTER INTIMIDATION.
Eric Holder; you are a duplicitous and hypocritical SON OF A BITCH!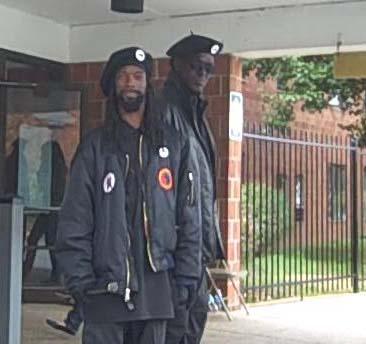 You use Homeland Security, the NSA, the FBI and the IRS to threaten any Conservative group that stands in opposition to Barack Hussein Obama. You threaten *jail time* to ANY that criticize Islam in a public format or on social media.
But you did NOTHING when your *Brothers* intimidated White voters.
Now Obama touts honoring Trayvon Martin by lessening gun violence. How can you honor a THUG? One that had THC in his system, had been expelled from school on more than one occasion and got himself killed because he attacked the Neighborhood Watchman that had the gall to confront him about his presence in a neighborhood that had suffered home invasions by people that fit HIS description.
You and Obama want nothing more than an excuse to declare Martial Law in this nation and in MY opinion you are not above having some of your minions incite the riots necessary to bring that action to fruition.
You and Obama want to have an excuse to disarm the civilian population of America and an excuse for your declaration of Martial Law, which would, in your minds, make that disarming possible.
Think again Holder.
Half of the American public owns legal guns! We are gun owners and most of us have more than one gun. We are LAWFUL gun owners and we support the Constitution of the United States. We, the LAWFUL gun owners of this nation AND at least 75% of all Law Enforcement Officers in this nation will STAND OUR GROUND.
Yes Eric Holder, this IS a warning. It is NOT a threat, it's a warning message from an American Patriot and gun owner that is NOT afraid of you, Obama or your ILLEGAL and highly un-Constitutional regime.
That's right Holder; a REGIME. You people are NOT an administration.
I can't speak for the nation, but I can tell you this; Texas, and Texans will NOT stand for your abuse of We, The People, your obvious disregard for the Constitution and your even more obvious racism.