Suspect in deadly rampage in Dallas, DeSoto is former soldier, Mesquite teacher, Mavs ManiAAC
Authorities say a grenade-wielding man went on a shooting rampage at homes in Dallas and DeSoto late Wednesday, killing four people and wounding four others.

The suspect has been identified as Erbie Bowser, 44. Authorities say it appears he was trying to kill a former girlfriend and his estranged wife, who lived at the house in DeSoto where police say the second attack occurred. She had filed for divorce in January 2011, but the case is still pending.

Officials say the rampage began about 10:30 p.m. Wednesday in Dallas at a home in the 7100 block of Long Canyon Trail, near West Wheatland Road and Mountain Creek Parkway. He killed two women and wounded two others there, police said.

Toya Smith, 43, and her 17-year-old daughter, Tasmia Allen died at the scene, according to Dallas police reports. Two others, Smith's 14-year-old son and a 17-year-old family friend, were taken to a local hospital, according to police reports. Their conditions were not released. SOURCE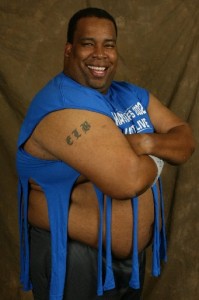 This is a Mavs ManiAAC
Kinda makes the Hogettes look pretty good, but I'm not here to make fun of the guy, I am going to ask some very pointed questions though.
I want some answers; where is Je$$ie Jack$on, Al $harpton and the NAACP on this?
Can we expect an influx of RACE PIMPS in Dallas?
Why have we not heard from the family yet?  Will the family names be trademarked?
Why have there been no community protests?
Will there be *hoodies* on sale? If so, can you get a discount if you buy the *set* with ALL the names?
Will there be *Justice for (insert names here)* rallies all over the nation?
Of course we already know the answers to these questions, none of it will happen simply because it is Black on Black violence and the typical RACE BAITERS can't make any money from this tragedy.
Isn't it funny how people like Je$$ie Jack$on and Al $harpton can be such hypocrites and practice their *selective outrage*?