Syria says it accepted Russian weapons proposal
MOSCOW (AP) – Syria said Tuesday it has accepted Russia's proposal to place its chemical weapons under international control for subsequent dismantling.

Syrian Foreign Minister Walid al-Moallem said Tuesday after meeting with Russian parliament speaker that his government quickly "agreed to the Russian initiative."

Al-Moallem added that Syria did so to "uproot U.S. aggression." SOURCE
Once upon a time, in an America far, far away, the American President was admired and respected.
I remember a time when the United States was a power to be reckoned with and our capabilities were respected and feared. I remember a time when an American President wasn't the laughingstock of the world. I remember when an American President wasn't *punked* by Russia and others.
I also remember when the words of an American President could leave nations like Syria quaking in their sandals and begging forgiveness for whatever transgression they may have committed.
Those days no longer exist.
Today Syria has, essentially, *bitch slapped* the United States of America and Barack Hussein Obama.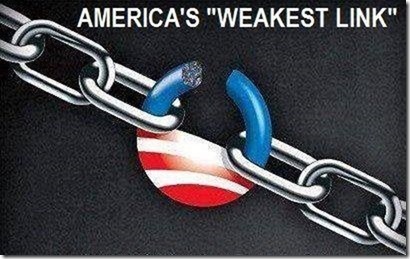 The cretin holding forth in the Oval Office has taken America into the most shameful position ever, fully half of this nation has NO USE for Barack Hussein Obama, has NO respect for Barack Hussein Obama, and even worse, has NO RESPECT for the Office of President.
There was a time when most folks, myself included, believed that even if you didn't like the President you still had to respect The Office of the President. Barack Hussein Obama has killed that too.
Meanwhile, Russia's Foreign Minister Sergey Lavrov said Tuesday that Russia is now working with Syria to prepare a detailed plan of action, which will be presented shortly.

Lavrov said that Russia will then be ready to finalize the plan together with U.N. Secretary General Ban Ki-moon and the Organization for the Prohibition of Chemical Weapons.
It was unimaginable to me that a Russian president could be more listened to, and yes, more respected than the President of the United States.
That was before the effeminate Obama took office and had all of his weak sister actions compared to a man that truly is a man and not a disgusting girly-man, thought by many to be a closet homosexual.
If Obama isn't a closet homosexual, why then do these stories make news and continue to surface? Just Google *is Obama gay*.. WHY would an American President give a DAMN about homosexuals in Russia if he himself were not one of them?
Obama meets with Russian gay rights advocates
Everything that Barack Hussein Obama says or does is a part of his *agenda*. Everything that he says or does is designed to bring America into a New World Order, one where HE is King, Sharia is law and his perversions are acceptable to his followers and his TRUE religion and first love, Islam.
Barack Hussein Obama is a lot like that *smarmy* bully we all have known from time to time, the one that eventually gets his comeuppance from the *fat kid* or the *geek kid* that has been pushed to the breaking point and will NOT take another insult or hurt.
America, it's time for that comeuppance!