Military Priests Face Arrest for Celebrating Mass in Defiance of Shutdown
Our government is out of control.

First, it was the World War II veterans who had to break down barriers to see the open air, un-attended memorial erected in their honor. A memorial which is on public land but is supported – including the National Park Service fee – with private funds. This week there was more security surrounding this memorial — just to keep elderly veterans out — than there was at our embassy in Benghazi the night it was attacked.

And for what? To inflict as much pain as possible through this government shutdown. It's called Washington Monument Syndrome, and it's pure political theater.

But now there's a story just coming to light that takes things even further. According the Archdiocese for Military Services, GS and contract priests (who are paid by the federal government as independent contractors in places where there aren't enough active-duty priests to meet the needs of Catholics in military service) are being forbidden from celebrating Mass, even on a volunteer basis.

If they violate this restriction, they face possible arrest. FOR CELEBRATING MASS. SOURCE
If I hadn't read this story, from a reputable source, I don't think I would have believed it.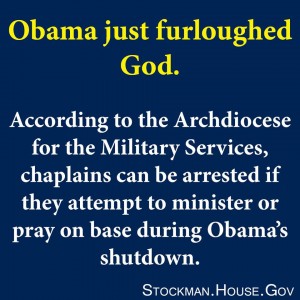 I am no particular fan of the Catholic Church but in this time of governmental despair I would think that a Catholic Priest would celebrate Mass simply because it's the right thing to do. Under the Obama regime, maybe not.
I have seen this line all over the place today, Angry Park Ranger Admits They Were Told To "Make Life As Difficult For People As We Can", and again, if I hadn't seen it, from so many reputable sources, blogs and pages, I would doubt its truthfulness too.
And have you seen this: Florida Residents Threatened With Fines for 'God Bless America' Lawn Signs | Fox News Insider??
Someone please tell me that there is NOT an open and aggressive assault against Christians and American Patriots being waged. Tell me once again just how much that despicable SOB, Barack Hussein Obama loves America. C'mon, give it the old *Libtard try*, and make it a good one.
Tell me how much Obama and the Democrats LOVE the U.S. military too while you're at it.
Troops Forage for Food While Golfers Play On in Shutdown
Grocery stores on Army bases in the U.S. are closed. The golf course at Andrews Air Force base is open. SOURCE
Remember this line; "To inflict as much pain as possible through this government shutdown" because it speaks volumes about Obama, the Democrats and everything they hate about America.
Maybe this shutdown and the silliness of Obama and the Dems concerning the shutdown and their actions during the shutdown will finally open the eyes of those that think the Obama response to Benghazi was appropriate.
So, enjoy this cartoon, I found it to be appropriate too.