Conservatives Resort to LIES to Make a Point
Do you want to know what's WRONG with America right now, other than the obvious?
Many Americans are basically STUPID, and I don't mean just the Obama crowd, I include many in this accusation that tout themselves as being solid Conservatives and/or GOP and TEA Party members. Many Americans are so stupid that if breathing weren't a natural reflex action, if it took any thought process whatsoever, they would DIE!
I don't know WHY so-called patriots have to use FAKE stuff to try and make a point. This was posted on the original site, Facebook, on Oct. 11 and touted as being all the trucks heading into DC for the protest.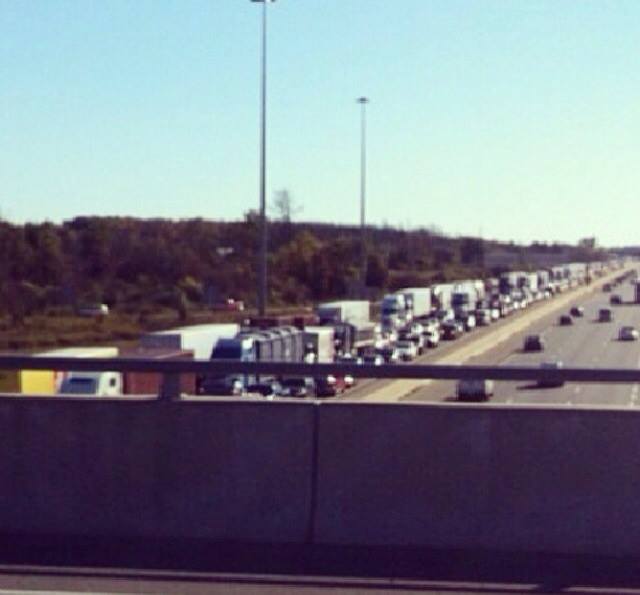 The above picture is a LIE; it was posted on Facebook and went viral in a big hurry, mostly due to the desperation of some Americans and the gullibility of many others.
The person posting it was claiming that it was D.C. being shut down by truck drivers, claiming that drivers had SHUT DOWN the I-495 and I-95 Beltway around D.C. on the morning of Oct. 11, 2013 and offered this picture as PROOF.
I see clear blue sky, the sun is shining, trucks are in the RIGHT LANES where trucks are supposed to be, cars are in the left lanes and I see normal stop and go traffic for I-95/495 and what is the typical morning commute around Washington.
There is one thing glaringly WRONG with this picture and it being so-called proof that the truckers strike and D.C. shutdown were real; it was pouring rain in Washington D.C. on Friday, Oct. 11, 2013.
I guess some people never look at The Weather Channel.
To all of these so-called Patriots, you don't help the cause of freedom by posting LIES. You are no better than the worst *slug* on the Left when you use lies in an attempt to make a salient point.
People kept telling me that the MEDIA was lying, that the pictures like this one, the sunny day picture, was all the proof anyone needed, the MEDIA was lying and I was falling for the story.
Well here's a flash for you; I watch the news, but I also watch and pay attention to THE WEATHER!
The REAL news footage was showing very slow traffic, and other than a small handful of trucks without trailers behind them, ones making an effort to stop traffic, I saw NORMAL D.C. traffic on what truly was a rainy morning. By all accounts, and I include FOX News in this, there were no more than 4 dozen trucks involved in the Million Truck Protest or whatever it was they were calling it.
I don't just rely on the MEDIA for my stories, and I wasn't getting the reports of rain from just the National Weather Service; I was getting some of MY information from one of our United States Gun Owners Association members that lives in Maryland and was THERE, on a bridge, IN THE RAIN, and he told me there were more people on the bridge than there were trucks doing a protest.
Folks, I don't buy into the MEDIA stories, but when REAL American gun owners and patriots are doing the reporting and they are disappointed in what THEY are seeing 1st hand, well, that's enough for me.
Here is a message that was sent to me by Chris Kilgore, a personal friend and one of our Rowlett City Council members that just happened to be in the Washington area on that day.
Chris Kilgore: Fred, we pulled out of D.C. Fri morning, in rain and drizzle. When we crossed the Beltway, it was haulin' ass. I presume that between government workers cooling it at home and rumors of the trucker's convoy, everyone stayed off of 495. I know we did.
That is 1st hand information from one of the most reliable sources I know, and here is MY response.
Fred Witzell: Thank you Chris, I DO appreciate that additional report… You know me, personally, and you know I NEVER make statements I can't back up or don't have citation to… See you soon my friend!
To ALL of my fellow Patriots; there is no need to embellish our stories, we have RIGHT on our side and as long as we are going to demand that our elected officials are held accountable, don't you think it may be a good idea if we were held accountable too?
We are NOT so desperate and gullible that we fall for any report or picture that comes out in a social media post and call it the Gospel Truth, are we? We don't have to resort to LIES to win back this nation, do we?
Please, use your heads, think, plan and most of all; pay attention. Investigate your so-called *sources* and verify everything before you put it out there on the 'net, whether it be a blog, some form of social media or in an email asking everyone to *send this to all of your friends*. A few minutes of investigation can save you a lot of time explaining why your story fell apart.
I know…