News Flash: ObamaCare Claims May be True
Barack Hussein Obama told the American people, regarding ObamaCare:
"So let me begin be saying this to you and to the American people: I know that there are millions of Americans who are content with their health care coverage. They like their plan and, most importantly, they value their relationship with their doctor. …And that means that no matter how we reform health care, we will keep this promise to the American people: If you like your doctor, you will be able to keep your doctor, period. If you like you healthcare plan, you'll be able to keep your health care plan, period. No one will take it away from you, no matter what." … President Obama at the annual conference of the American Medical Association, June 15, 2009. SOURCE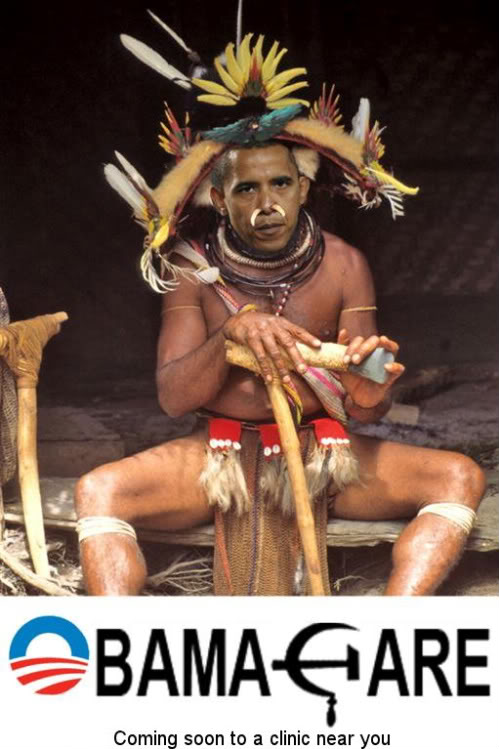 OK, so it turns out that Barack Hussein Obama misspoke, what he meant to say was, "If you like your WITCH DOCTOR, you can keep your WITCH DOCTOR.
Yes, I know, a lot of people have deemed the above picture to be a RACIST picture and one that totally denigrates Barack Hussein Obama.
Seriously, I don't care.
Sixty-Eight percent of privately-insured Americans may not be able to keep their current health coverage once Obamacare is fully implemented, despite the president's repeated promises that anyone who wanted to keep their plan would be able to do so, according to a Duke University health expert.

An analysis by healthcare economist Christopher Conover at the Center for Health Policy & Inequalities Research at Duke University found that an estimated 129 million people could lose their previous health coverage due to a combination of factors including the cancellations of existing plans as well as changes and "improvements" to existing coverage that will be required under the new healthcare law, The Daily Caller reported.  SOURCE
Any questions?