Pit Bull Kills Owner's 4-Year-Old Daughter
Police say a pit bull fatally attacked a 4-year-old girl who was watching television in a southern Louisiana apartment and injured the girl's mother when the woman pulled her daughter away.

Houma Police Chief Todd Duplantis says that 27-year-old Megan Touchet barricaded herself and her daughter, Mia DeRouen, into a bedroom Tuesday evening and called 911. He says she handed her child out a second-floor apartment window to a rescue worker on a balcony.

He said Wednesday that officers shot and killed the dog, which was still being aggressive.

Duplantis did not know whether the girl was on a sofa or chair or on the floor when she was attacked.

She was bitten on the face and head. Touchet remained hospitalized Wednesday.

Story Here:
Pit Bull Kills Owner's 4-Year-Old Daughter in La.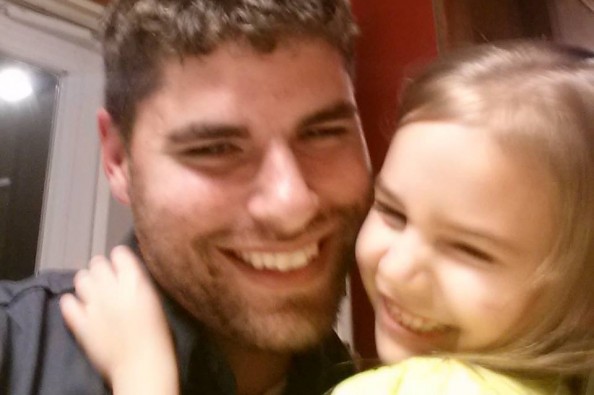 Chris DeRouen and Mia DeRouen

This story hits really close to home for me. My youngest Daughter, Lisa, is the sister in law to Mia's God Mother. This beautiful little girl was a member of our extended family and what I am about to say may cause me to lose some friends and/or readers, but I have to tell you, quite frankly, I just don't give a DAMN.
Indeed, other breeds of dogs DO bite, but Pitbulls are killers, KNOWN killers!
You hear all the stories about *it's how the dog was raised* and that is exactly what it is, a story!
This was a family *pet*, a poor choice in MY opinion, and I have to tell you, I have NO USE for any parent that would keep a Pit as a *family pet*.
I know, some of you are dog lovers, I am too, but Pits are, regardless of what anyone says, an inherently vicious dog, and yes, I know, *YOU* have/had a Pit that was so gentle and loving and never did something like that. Well, all that means is the dog didn't *SNAP*, that's it. That particular dog was an exception to the rule!
If you have any desire to help this family you can help by paying a small portion of the funeral costs for this beautiful little girl.
Mia DeRouen's Funeral Expenses by David Thibodeaux - GoFundMe
Family and friends of the DeRouen & Touchet families have come together to help raise money for the funeral expenses of their precious little girl Mia. This unimaginable tragedy has affected the lives of so many people, the only thing we can do at this time is offer prayers, bear our shoulders to lean on, and give forward to help alleviate the costly expenses of this unexpected tragedy. Please keep the families of this beautiful angel in your prayers, and thank you for your gracious support.
Let me say this, in ALL honesty, a case such as this makes me doubt the *grand scheme* of things. How can a *merciful* God allow such a heinous thing to occur? How can such a violent and dangerous breed of dogs be allowed to LIVE?
EDIT TO ADD: Funeral services set for girl killed by pit bull | KATC.com |