Energy Future files for bankruptcy, company splitting up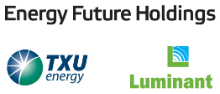 Energy Future Holdings filed for Chapter 11 bankruptcy protection Tuesday morning after reaching a debt restructuring deal with creditors to would break up the company and eliminate more than half its $40 billion in debt.

The filing in U.S. Bankruptcy Court in Wilmington, Del. comes seven years after private equity firms KKR & Co., TPG and Goldman Sachs Capital Partners bought out the shareholders of the former TXU Corp. for $45 billion. The company struggled under low power prices and billions of dollars in annual interest payments, producing massive losses few would have predicted at the time of the deal, the largest leveraged buyout in U.S. history.

Under the terms of the restructuring proposal released Tuesday, the Dallas power giant's generation and retail arm Texas Competitive Electric Holdings would break off from the parent company EFH. First-lien lenders with claims on $23 billion in debt would take over TCEH, which includes Luminant and TXU Energy, according to an EFH news release.

Creditors of the company's regulated transmission arm, which owns Oncor, would receive equity in the reorganized EFH in exchange for giving up $2.5 billion in debt claims. Unsecured creditors would contribute up to $1.9 billion in cash into the new company. Creditors of the parent company EFH would give up $600 million in debt claims. SOURCE
I'm not a business guru, I don't claim to be, but I have long suspected that there were issues within this network that were going to cause a great many Texans to lose power at a very critical time.
Our local media always stays on top of the power issues, much to their credit, and I am convinced that they too see some type of mismanagement at the root of this financial debacle.
With the rates that Texans pay for power you would think the generating companies would have a surplus of money and nothing but top-shelf equipment.
If that were the case you wouldn't expect to see this headline.
Rolling Blackouts Force Texas To Import Power From Mexico
The Texas power grid is usually only taxed in the middle of summer when air conditioners are in overdrive. Yet on Wednesday Texans woke to news of rolling blackouts statewide. Throughout the day Houston saw the power cut to 300,000 at a time for up to 45 minutes. In Dallas the blackouts knocked vital hospitals offline, but spared Cowboys Stadium, where Superbowl preparations continued as planned.

Midday Wednesday Mexico was generously sending nearly 300 mw into the Texas grid via the Sharyland Utilities interconnection, built and owned by the family of Dallas billionaire Ray Lee Hunt. SOURCE
Texas bought electricity from Mexico but homes and hospitals were off-line in one of the biggest ice storms Texas has had in quite a long time, BUT, Jerry World, where Cowboys go to embarrass themselves, was spared because the Jones facility was hosting a football game. No, I don't see any issues here, do you? Nothing to see… Move along… These aren't the 'droids we're looking for…
ERCOT, the Electric Reliability Council of Texas, is always issuing warnings of *rolling blackouts* when we have very hot or very cold weather. It seems to me that the power generation system just can't keep up with demand. Supposedly power plant owners had made significant changes to protect plants from cold weather after a February 2011 storm knocked about one-fourth of the state's power plants out of service.
ERCOT: Texas narrowly avoided rolling power blackout
The state's primary electricity grid narrowly avoided a rolling blackout Monday morning after two large power plants in north Texas tripped off, officials with the Electric Reliability Council of Texas said.

"I think we were close," said Dan Woodfin, ERCOT's director of system operations. "If we had lost another unit, it would have put us into a Level 3" emergency.

ERCOT, which manages the grid that serves three-fourths of the state, including Central Texas, has a three-step emergency system. Level 3 requires rotating outages to keep the grid functioning.

Woodfin said there were 3,700 megawatts of forced outages — half related to the cold weather that brought near-record lows to the state — between midnight and 8 a.m. The other half were typical issues not related to the weather. SOURCE
Personally, I don't care what anyone says, when you have rolling blackouts in Texas, due to excessive heat or cold, there is a systemic problem in the equation.
These are the kind of headlines and news reports we're used to seeing, Thousands lose power in heat-related outage, and I have to say, I don't accept excuses all that well. My hope is that the companies can emerge from this with some degree of success and a much stronger grid structure.
Additional Reading:
ERCOT ends 8 hours of rotating blackouts in Dallas-Fort Worth
Storm turns some Super Bowl plans into Super Mess