Tennessee brings back the electric chair
NASHVILLE, Tenn. (AP) — As the rest of the nation debates the feasibility and humanity of lethal injections against a backdrop of scarce drugs and botched executions, Tennessee has come up with an alternative: the electric chair.

Republican Gov. Bill Haslam signed a bill into law Thursday allowing the state to electrocute death row inmates in the event prisons are unable to obtain the drugs, which have become more and more scarce following a European-led boycott of drug sales for executions.

Tennessee lawmakers overwhelmingly passed the electric chair legislation in April, with the Senate voting 23-3 and the House 68-13 in favor of the bill. SOURCE
I know what the Constitution says about *cruel and unusual* punishment, I have read a few legal reviews and opinions, but I just can't see where a lethal injection is, or should be the only way to execute a prisoner.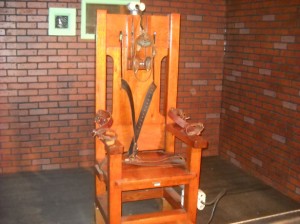 That is a picture of *Old Sparky*, the electric chair that's on display at the Texas State Prison in Huntsville, Texas. I am guessing that it wouldn't take a lot to get the Old Boy refurbished and ready to fry, if it's not already.
Tennessee is the first state to enact a law to reintroduce the electric chair without giving prisoners an option, said Richard Dieter, executive director of the Death Penalty Information Center, a Washington-based nonprofit organization that opposes executions and tracks the issue.

"There are states that allow inmates to choose, but it is a very different matter for a state to impose a method like electrocution," he said. "No other state has gone so far."
Yet…
There is much made about the *rights* of prisoners on death row. I am not the least bit concerned with what an execution does to them or how it feels to someone that is put to death for committing a capital offense.
Bleeding heart Liberals cry about the way a prisoner looked, about the terrified look in their eyes, the way they flinched as the drugs from the injection were administered and so forth, they say that is so *harsh* and not something one human should do to another.
You know what I never hear? I never hear the bleeding hearts speak about the victim(s) that were killed, how they were killed, the terror and pain they must have felt and how they suffered excruciating pain in death.
But you sure do hear a lot of concerns for the one that did the murder(s).
Personally, I believe execution by lethal injection is much too kind for a person that has committed murder(s) and *other* heinous crimes. The prisoner gets a needle in a vein, goes to sleep, and barring any complications, he never wakes up. THAT is too kind!
I have no objection to execution, be it by hanging, firing squad, electrocution or even a lethal injection if that's all you have, but I have long believed that the person to be executed should suffer death in the exact manner in which they caused the death of their victim(s).
I know by now some people are thinking that I am cruel, heartless, mean and uncaring, and when it comes to the execution of a murderer they would be correct, you see, I have also long thought that it would be most appropriate to allow the family of the victim(s) to exact justice for their departed family member(s).
You hear so many people say, "I wish I could get my hands on that SOB for 5 minutes.."
Well, OK, give them a chance to do just that; put up or shut up.
Unless you have lost a friend or loved one to a murder you may not feel like I do, even if you have, and you happen to be a bleeding heart Liberal, you may still cry about how you have forgiven the person that killed your family or friends.
Maybe, as far as some folks are concerned it would be the Christian thing to do, forgive he that has brought harm to you and yours. If that's how you feel, OK, it's your loss.
As for me; Whoever sheds man's blood, his blood will be shed by man, for God made man in His image. – Genesis 9:6
I'm not the *forgiving* kind when someone hurts or murders one of my own. I guess I'm just an Old Testament kind of guy, an eye for an eye and all that.