Texas GOP Backs Cruz And Therapy For Gays
Locked in an ideological struggle between tea party activists and traditional conservatives, the Texas Republican Convention was hammering out a platform Saturday set to preserve a softer stance on immigration, while also endorsing voluntary counseling to "cure" being gay.

Booing and shouting sometimes interrupted hours of debate among roughly 7,000 delegates, and party chairman Steve Munisteri pleaded for civility. Far less contentious, though, was a 2016 presidential straw poll expected to be dominated by firebrand U.S. Sen. Ted Cruz. SOURCE
OK, the 1st thing I am going to do here is anger a few people with this post and opinions expressed, on all three topics. I'm not yet sure just WHO will be angered or offended but the comments should tell the tale.
A softer stance on immigration? Seriously?
The GOP had best pay very close attention here because I am going to spell this out in terms so simple that even a Democrat can understand; a softer stance on immigration is what has placed this nation in such great peril.
The United States doesn't need to soften ANYTHING regarding immigration; if any type of action is required it would be the closing of our borders to any and all that don't belong here and have no LEGAL reason to be here.
There needs to be a working system to DEPORT illegals too, and don't even try to tell me that they can't be found and rounded up. If they can't be rounded up, why then are we seeing stories like this coming from Arizona? Buses dropping off scores of immigrants in Arizona, and this, Feds say no end in sight for policy of 'dumping' illegal immigrants in Arizona?
If these people can be rounded up and dumped in Arizona why can't they be rounded up and dumped, under armed guard, at the Mexican border? Why can't that border then be secured and these illegals kept out?
For a long time now all we have heard is how we, as Americans, need to kind-hearted and accept these people into OUR culture. The main reason given for needing to accept the illegals and to believe that their actions are in OUR best interest? Well, apparently it is IMPOSSIBLE to round up and deport 15 to 20 million illegals.
It would appear that the Obama regime HAS figured out a way to round them up, and to dump, not deport them from the USA, just dump them on Arizona.
If they can be taken to Arizona they can be taken to the border and herded back across to where they came from.
A softer stance on immigration gives the GOP the distinction of looking more and more like what I and so many other Conservative bloggers have described as *Dem Lite*, a herd of RINOs that are a lot closer to the Democrats in thought, deed and principle than they are to a Conservative, America 1st nation.
Do mainstream Republicans really want to keep the *Big Tent* open on immigration and the deportation of illegals?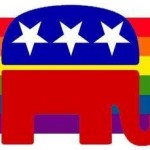 Secondly; endorsing voluntary counseling to "cure" being gay?
I am seriously astounded by the GOP of late. They are willing to sacrifice decency and morality in order to acquiesce to the demands of what is, if estimates I have read are correct, a group that comprises less than 3.8% of the entire American population by adopting a seriously flawed platform of sheer stupidity as they seek to appease, and attract homosexuals. You can't *cure* homosexuality and personally, I don't believe it can be *prayed away*, if it could homosexuals would be extinct.
That number, the 3.8%, in the grand scheme of things, is a very small number of people, and when taken as a whole I am certain that not all of that 3.8% is GOP.
I am truly saddened that the GOP would even consider alienating the Conservatives and Christians in their ranks merely to be able to claim themselves as tolerant of the life that homosexuals, male and female, embrace.
So, again I say; dear GOP, do you really want to take a RINO stand on this and build the Big Tent into an even bigger tent?
And last, but surely not least is this; Ted Cruz.
Firebrand U.S. Sen. Ted Cruz has easily won a 2016 presidential straw poll at the state Republican Convention in his native Texas. Cruz took 43 percent of the vote Saturday, at a gathering in Fort Worth featuring roughly 7,000 delegates. Conservative speaker and author Ben Carson was second with 12.2 percent.

The result was announced a day after Cruz promised to lead a national conservative revolution unseen since the days of Ronald Reagan.
I remember the wave of patriotism that swept this nation when Ronald Reagan was on the campaign trail, but I also remember hearing a lot of the same negative rhetoric regarding Reagan's platform back then that I hear now regarding Ted Cruz.
Is Ted Cruz the savior of the GOP and American Conservatism? Could Ted Cruz possibly be that next *Reagan* that so many of us are desperately seeking?
Honestly; I don't know, it's at best, a 50/50 chance I suppose.
I know that back in the days before Reagan was elected POTUS I had some serious doubts about him, but he, through his actions as our leader, changed my mind and convinced me that he, Reagan, was the real deal and looking back, Reagan was, in all probability, the best we ever had.
Can Ted Cruz be that kind of man and a natural born leader too? Time will tell.
Additional Reading: Aid targeted for Arizona site holding migrant kids