For Perry & Hannity — Guns on the Border, for Obama — BBQ
Rick Perry and Sean Hannity show guns at border
If President Obama wouldn't go with Gov. Rick Perry to tour the border, he found someone else who would.

Fox News host Sean Hannity posted pictures of his excursion with the governor on Thursday, apparently posing on one of the heavily armed patrol boats maintained by the Department of Public Safety. SOURCE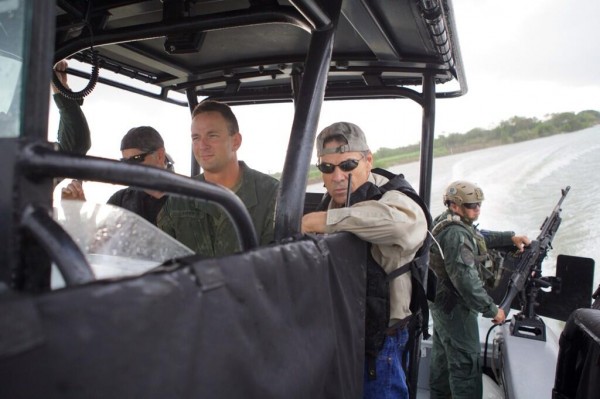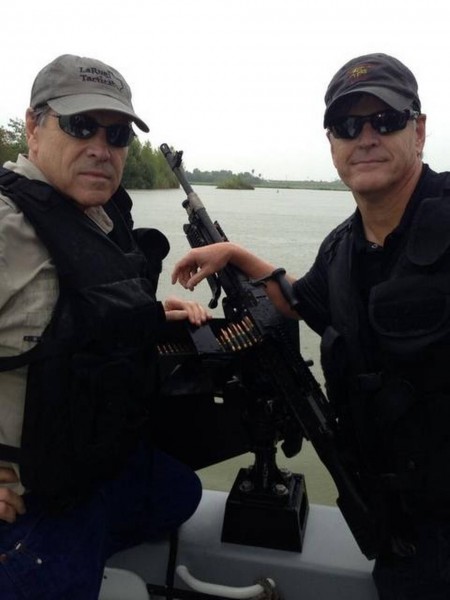 We have some incredibly STUPID people here in Texas, read the comments on the above story from the Dallas Morning News about Perry, Hannity and guns.
Obama's attempt to change subject in Austin falls flat
AUSTIN — President Barack Obama brought his besieged administration to Texas this week to talk about a bright spot — the recovering economy — and to say that problems bedeviling the country can be fixed if Republicans would only help.

Even as the president showcased improving job numbers Thursday, the crisis on the border offered opponents fresh ammunition in the political wars of Washington.
"America is making progress despite what the cynics say," Obama told supporters in a speech capping a two-day Texas trip. SOURCE
Apparently Obama doesn't realize; Texans have seen their share of *snake oil salesmen* and we're wise to him and his lying BS. What's incredibly appropriate is the fact that the rest of America, including some Democrats, are seeing him for the disaster he really is.
Wendy Davis hopes president will visit Texas border and see immigration crisis
Democrat Wendy Davis said Thursday that President Obama should visit the Texas border at some point to see for himself the child immigration crisis that is now occurring. Davis, the Democratic nominee for governor, was asked at a news conference whether the president should have visited the border during his stay this week in Texas. She did not criticize his decision to skip the border, but added, "I hope at some point in time he will make time (to visit the border). It is one thing to hear the numbers and another thing to see for yourself the people, by the thousands, who are coming across." SOURCE
Somehow I just don't see *Abortion Barbie* taking a stand and calling Obama out.
What I see is a dumb as dirt Democrat that hasn't had an original thought in her entire life being told by her campaign to say something that sounds challenging, say something that makes her sound like a leader.
Instead of saying something that sounds challenging Davis merely sounds *challenged*.
Obama stops for lunch at Franklin Barbecue in Austin
WASHINGTON – Before leaving Austin, President Obama made a surprise stop at Franklin Barbecue on the way to the airport.

It was packed but presidents don't wait.

"Hey guys! I hear the barbecue is pretty good here. Is that true?" he said. "I know this is a long line. I feel real bad, but – I'm gonna cut." SOURCE
I don't begrudge Barack Hussein Obama some good BBQ, in fact, it might do him some good to get away from that diet of rabbit food the *1st Wookie* wants him and every other American to eat so she can have more of everything and keep her fat ass, well, FAT.
At least Obama used some of OUR money to buy lunch for the Texas folks he cut in front of. That may be why he made it out of the BBQ Joint in one piece. 😛